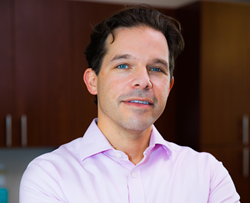 MIAMI (PRWEB) July 10, 2018
Drs. Howard Abrahams and Stan Frohlinger, a skilled prosthodontist and cosmetic dentist team, welcome new patients interested in receiving custom care as part of a complete smile makeover. This team offers simple to complex cosmetic dentistry in Miami Beach, FL, so patients can see a true and lasting smile transformation.
A study reported by Dentistry Today showcases the importance of smile makeovers in contemporary society. When asked, 42 percent of research participants noted that they wanted to change the way their smiles looked. Nearly the same percentage of respondents felt embarrassment by the way their teeth looked.
At Dental Implants Miami Beach, each smile makeover is completely customized based on the patient's dental history, oral health and personal goals. For this reason, patients prefer to put their trust in an established cosmetic dentist or prosthodontist like Dr. Abrahams or Dr. Frohlinger who have stayed ahead of the latest developments in cosmetic dentistry reconstruction options since dental school. Dr. Abrahams explains, "I am fortunate to be able to treat my patients with a high degree of skill because I realized the necessity for proper training early in my career."
Some of the procedures that can be customized for each smile makeover experience may include same-day dental crowns and dental implants to restore functionality and facial aesthetics as well as teeth whitening to brighten existing, natural teeth. As part of the original smile makeover consultation, Dr. Abrahams works with patients to develop a comprehensive and safe plan that will highlight their best features and meet their unique smile needs.
Even those with complex smile makeovers are encouraged to meet with Dr. Abrahams and Dr. Frohlinger about achieving their smile transformation with cosmetic dentistry in Miami Beach, FL. Appointments can be made by calling their practice at 305-921-0082.
About the Practice
Drs. Howard Abrahams and Stan Frohlinger offer cosmetic dentistry at their Miami Beach practice. Dr. Howard Abrahams is an esteemed prosthodontist who specializes in a wide variety of dental concerns, from simple to the most complex. He has completed a three-year specialty program in advanced prosthodontics with a focus on dental implant and cosmetic rehabilitation. Dr. Frohlinger is a highly credentialed dentist who has been in practice for over 30 years. He has achieved a Masters in the Academy of General Dentistry and serves as a clinical evaluator for the American Dental Association. To learn more about Dr. Abrahams or Dr. Frohlinger or the services they offer, please visit their website at http://www.dentalimplantsmiamibeach.com or call 305-921-0082 to schedule an appointment.