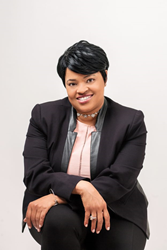 Live the life you deserve. Step into your destiny and discover the secrets to your heart.
SOUTH AMBOY, N.J. (PRWEB) July 11, 2018
Founder of Women on The Rise, Kwesha Neal, recently signed a publishing deal to co-write the forthcoming book titled Professional Performance 360 Special Edition: Success, Second Edition, published by CelebrityPress® LLC. In addition to Neal's expertise, the publication features content from JW Dicks, Esq. and Nick Nanton, Esq., international Best-Selling Authors® and marketing experts. The book will be released under the CelebrityPress® LLC imprint, a leading business book publisher that publishes books from ThoughtLeaders® around the world.
Professional Performance 360 Special Edition: Success, Second Edition, is tentatively scheduled for release in Fall 2018.
A portion of the royalties earned from Professional Performance 360 Special Edition: Success, Second Edition, will be donated to Entrepreneur's International Foundation, a not-for-profit organization dedicated to creating awareness for charitable causes.
Kwesha Neal was selected to be in the book because of her commitment to professional success and willingness to share her vast knowledge. Her expertise in the business industry makes her an asset to the publication and will surely benefit a wide range of readers.
For more information about the upcoming release visit http://www.CelebrityPressPublishing.com.
About Kwesha Neal
Kwesha Neal is a Personal Development Coach, Speaker. I help my client to have a clear vision of themselves, to take the lid of their life and live with abundance and happiness.
Kwesha Denice Neal was born in Newark, New Jersey. She attended Essex County College where she obtained a Programming Certificate. Later, she attended Structure Network in Jersey City, where studied Cisco Systems. Kwesha traveled five continents, exploring different cultures and customs. Kwesha became very passionate about reaching her true potential in her life, so she hired a life coach, and was able to see the wonderful results and the transformation in her life. Kwesha is happy adding values and connecting with people.
Kwesha Neal has been coach by John Maxwell and she thanks other for Coaching her and Mentor. She is the Award-Winning author Revealing Who You Are 7 Chapter of Complete Happiness. Kwesha Neal is the Founder of Woman On The Rise We Are Moving Forward. Kwesha is a member of Old Bridge Chamber of Commerce. Kwesha Neal was guest on the Nikki Clarke Show in Toronto Canada on November 9, 2017.