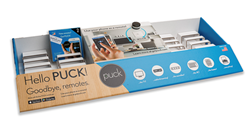 This display is professional, easy to order, and easy to assemble.
CHICAGO (PRWEB) July 12, 2018
Chicago based digital printer and innovator Sunrise Hitek have launched a new PDQ shelf display which is ready to order now on their website. This display is professional, easy to order, and easy to assemble. The Walmart PDQ Shelf Display is an exceptional choice for small businesses and startups to acquire professional packaging. This tried and true display template can get products into the store faster and definitely stand out above the rest.
Statistics show again and again that POP displays play a large role in how customers react to a product. A statistical analysis about signage on Visualogistix noted that 74% of all purchase decisions are made in store, meaning that the right display is often really all it takes to pull the customer in. They also found that 68% of customers believe that the quality of the signage directly reflects the quality of both the product and the business representing it. While this makes sense, it is also a strong reminder to make sure displays are heavily quality controlled.
The Walmart PDQ shelf display is a custom piece made from E-flute and B-flute corrugated cardboards with custom inserts. The display can be made in either a matte or glossy finish. Each piece is full color digitally printed for the most vibrant color. Sunrise Hitek is also a G7 Certified printer which means color accuracy and quality are of the highest caliber.
Sunrise employs a somewhat unique all digital workflow. This reduces costs opposed to traditional packaging house prices. The digital workflow also enables them to produce low and fixed-cost prototypes; very rare in an industry where a typical order is 100,000 pieces as opposed to 100 pieces. Lastly, digital workflow greatly shortens turnaround times, allowing orders to be completed in as few as 3 days when needed!
This piece was originally designed in collaboration with a client creating a display specifically for launch in Walmart stores. This shelf display design is Walmart approved, ensuring acceptance of display worry free. Sunrise wrote a blog documenting the journey from concept to finished product.
About Sunrise Hitek
Sunrise Hitek is a leading maker of protective gear for schools' 1:1 technology programs. HITEK has been designing tech accessories since 2013 and expanding ever since. Their primary customer are K-12 schools, leading them to recently develop the hitekcases website specifically for the educational sector. Sunrise Hitek Group, LLC, also operates Sunrise Hitek, a leading color printing company based in Chicago. As a G7 Qualified Master Printer, Sunrise is uniquely qualified among protective gear makers to offer a wide array of customization options, ensuring the most consistent and accurate color reproduction. Sunrise is an Inc. 5000 company established in 1988 and employs the most advanced equipment and technology, such as G7-certified HP Indigo and UV flatbed presses, and digital die-cutting, to create best-in-class products. A privately-owned enterprise, the company is based in Chicago and sells products worldwide.