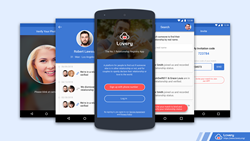 (PRWEB) July 11, 2018
Because of the chaotic dating scene in today's day and age, it is becoming harder and harder to know if a person is faithful or not. Many people are happily playing the field without complying with dating ethics. Due to the growing demands for checking an individual's dating situation via technology, a new app Lovery was launched. This app uses the most advanced technology to identify whether the person you are dating is loyal to you or not.
"Some people even hire detectives to find out answers to their questions, but that approach is way too expensive for most individuals. That's why we developed a simple and reliable solution to this problem," says Maggie A, Compliance Officer of Lovery, "People can use Lovery to find out whether the person they are in love with is also in another relationship or not. Men and women can also use this app to declare their love to the world unless they don't want their relationship to go public. Honestly, if you ask your partner to register your relationship on Lovery and he/she refuses to do so or shows hesitation, that already means it's probably not a genuine 'relationship'. Hence, it is a red flag."
Therefore, if you are in a committed relationship with someone, just ask that person to register your love on Lovery, and their reaction already reveals the truth. Better still, before you begin to date someone new, you can simply download this app and search that person's name, and you will see whether he/she has registered with others. This gives you a real answer to a legitimate question and should save you a lot of time and energy in the long term.
"Lovery app has transformed the current dating climate in which many daters date multiple individuals at the same time, which has caused a lot of people pain and stress," says Maggie A. from Lovery Team, "To solve this problem, Lovery, the No.1 relationship registry app has just announced its launch for Android community."
To register a relationship on Lovery, the individual needs to use their phone number as verification and enter their real name (just like the way you create a Facebook account).
When uploading a photo, the individual's face will be scanned to verify the photo and the authenticity of this account. This is a way to prevent someone from using others' photos as their own profile photo.
Then the individual invites their partner to confirm their relationship on this platform and show their love in public.
On Lovery, anyone can search a person's name and check their relationship status, i.e. single or in a relationship.
Of course, open relationships (which are not common) are not affected by Lovery.
Website:https://www.lovery.org/
Android:https://play.google.com/store/apps/details?id=org.lovery