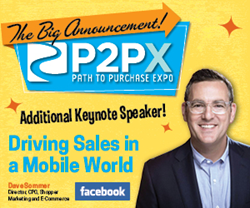 CHICAGO (PRWEB) July 12, 2018
The Path to Purchase Institute is pleased to announce that Dave Sommer, Director, CPG, Shopper Marketing and E-Commerce at Facebook, has been added to the 2018 Path to Purchase Expo (P2PX) agenda. Sommer will join executives from Ahold Delhaize, Forrester Research and The Mom Complex as a keynote presenter on October 3 at the Minneapolis Convention Center in Minneapolis, Minnesota.
During his presentation, Driving Sales in a Mobile World, Sommer will discuss the challenges and opportunities that CPGs face as a direct result of mobile-first disruption.
The 2018 P2PX agenda includes 70+ speakers and 35 seminars that cover the topics and trends that are changing the retail landscape. P2PX presenters represent leading companies including Albertsons Cos., The Campbell Soup Co., The Clorox Co., The Coca-Cola Co., Evite, Henkel North America, Johnson & Johnson, The Kellogg Co., Mars Wrigley Confectionery, Mondelez International, Pinterest, Verizon and Walgreens.
Don't miss your chance to join us at the career-changing event! Register today at path2purchaseexpo.com.
About the Path to Purchase Expo
The Path to Purchase Expo is the destination for getting ahead of tomorrow's shoppers. From transformation to activation, we empower professionals that are influencing the entire path to purchase. P2PX is the place for retailers, brands, marketing professionals, manufacturers, agency professionals and solution providers to get ahead of tomorrow's shoppers. Learn more at path2purchaseexpo.com.
About the Path to Purchase Institute
The Path to Purchase Institute is a global association serving the needs of retailers, brands and the entire ecosystem of solution providers along the path to purchase. It champions shopper-centric thinking and practices that help define the ongoing evolution of consumer marketing and the overall shopping experience.