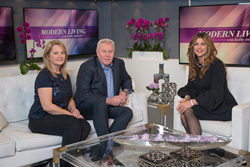 To some, Springfield may not be the obvious choice for setting up an international sleep technology business, but with respected local companies, access to great staff, the university, and a range of agencies—along with the town's family ties—there were plenty of reasons to call Springfield home.
SPRINGFIELD, Mo. (PRWEB) July 10, 2018
The mattress buying experience changed this year when Springfield-based iSense Sleep launched their Comfort Control™ line of mattresses—the first to offer adjustable firmness in innerspring and memory foam support systems, in addition to air. The mattress manufacturer uses a unique virtual reality experience to take consumers on a ride through their beds to illustrate both the construction and how the technology works.
When asked about the VR Experience, Trent Ranburger, owner of Trent Bedding, says, "I've never seen anything like it in our industry. It's cutting edge. It's going to give customers more knowledge, not just coming from a retail person, but they can actually see the technology."
iSense Sleep is a new company on the mattress scene, founded by a 30-year industry veteran with the desire to put control in the hands of the consumer, both in the functionality of the mattresses themselves and by demystifying the mattress buying experience. As the former CEO of Australian mattress giant A.H. Beard, Paul Longman was keenly aware of the industry's challenges, developing his patented Comfort Control™ Technology in direct response to those needs.
When asked about the technology, Longman remarks, "The only way a customer is going to get a bed that's truly right for them is if they can easily adjust its firmness in their own home. Until now, that was limited to air beds. iSense Sleep's Comfort Control™ Technology extends the ability to adjust a bed's firmness to the two most popular mattress types: memory foam and spring. You wouldn't buy a car if you couldn't adjust the seats. You shouldn't have to settle for a mattress that doesn't adjust, either."
There was a time when Paul and his wife Denay Longman considered setting up shop on the coast, but the pair ultimately opted to base their headquarters in Springfield because of Denay's ties to the area. After several years of living in Sydney and visiting Missouri, they returned to the area in November 2016 for Denay to reconnect with family. Longman recalls of the time, "While Denay was spending time with family, I spent time researching Springfield. I visited with Jordon Valley Innovations Center, met with local marketing agencies, researched the skills that were coming out of MSU, and quickly formed the opinion that Springfield had the skills and resources I needed to make this business happen."
In May of 2017, the couple signed a lease in Downtown Springfield and officially began their journey to build the world's first fully adjustable line of mattresses in Spring, Foam, and Air. The company officially launched their Comfort Control™ line of mattresses at Las Vegas Market 2018 last January, to rousing success. Since that time, they've signed retailers across the country, as well as multiple international licensees.
The Longmans are equal parts proud of their young company and of their community. "We welcome the Springfield community to come and visit our corporate offices and showroom so you can experience the most innovative mattress solutions in the market today."