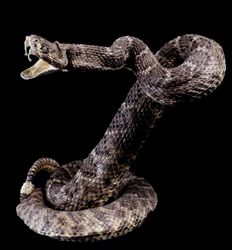 "I think this will open their eyes to a new world of danger they weren't aware of. It offers a wonderful sense of mortality in addition to a strong feeling of being alive."
HOUSTON (PRWEB) July 13, 2018
Come survive a plethora of cruel commodities, lesser known but highly dangerous. A new exhibition developed by the Houston Museum of Natural Science, Death by Natural Causes, features a wide variety of live animals, real poisonous vegetation and a collection of minerals that the world has never seen (and lived to tell the tale).
This special exhibition provides visitors with an once-in-a-lifetime opportunity to discover what drove Van Gogh mad, why tomatoes were deemed inedible 500 years ago and many things that are far more likely to kill you than sharks.
"Plenty of people believe they have a pretty good idea what is deadly and what isn't," said David Temple, Associate Curator of Paleontology. "I think this will open their eyes to a new world of danger they weren't aware of. It offers a wonderful sense of mortality in addition to a strong feeling of being alive."
Encounter live deadly animals up close and personal, such as the "Assassin bug," which attaches to its host's face and causes heart complications—or the Mojave rattlesnake, the snake with the most potent rattlesnake venom.
Come face to face with the giant Japanese hornet and its ability to kill more than one honey bee every two seconds in a hive—a hornet so dangerous that bees have learned to create such extensive energy around the hornet that they cook it alive.
Learn about the Radium Girls: women who were employed to paint glow-in-the-dark ink on wristwatches, only to die from radiation poisoning due to the radium in the ink.
Resist the temptation to eat the Amanita mushroom, the very plant responsible for approximately 95% of all mushroom-related fatalities. It turns blood acidic. It causes jaundice. It causes widespread cellular death. It isn't very pleasant, and requires quick, clever and intense medical care to treat effectively.
Come see Death by Natural Causes, and explore so many more of the deadliest aspects of this world we share—you'll be truly surprised at the danger that lies waiting behind every corner...
Only at the Houston Museum of Natural Science.
Organized by the Houston Museum of Natural Science. Local support provided by the Harriet and Truett Latimer Endowment Fund and the John P. McGovern Foundation.
Death By Natural Causes is on display now through Sept. 3. For ticket prices or more information visit our website at http://www.hmns.org or call (713) 639-4629.