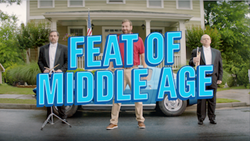 While the world continues to pretend that nothing changes as muscles age, with the help of Walrus, Slow-Mag is speaking the truth in a way that is both empathetic and applicable.
NEW YORK (PRWEB) July 11, 2018
Independent advertising agency Walrus, today unveiled its new campaign for Avrio Health magnesium brand, Slow-Mag. The brand consolidated their business with Walrus in Q4 2017 after a review. Focused on the challenges of middle age, the latest work carries a lighthearted message aimed at breaking the stereotype often seen in health supplement campaigns.
This fully integrated campaign includes digital display and video, print, cover wraps, digital audio, podcasts, sponsored content and a full package redesign, in addition to a sports marketing component including the sponsorship of multiple recreational softball teams across four markets.
Advertising typically strives to depict men in their 40's as just a slightly more salt and pepper version of themselves in their 30's. While it's often "all systems go" on the outside, middle-aged muscles may not be feeling the way that they used to. This new campaign humorously highlights middle-aged moments, like "getting out of the pool without using a ladder" and "opening the garage door the old-fashioned way."
While the world continues to pretend that nothing changes as muscles age, with the help of Walrus, Slow-Mag is speaking the truth in a way that is both empathetic and applicable. Slow-Mag's premium form of high-absorption magnesium chloride plus calcium helps promote proper muscle function and aids cardiovascular health.*
"This is the first really big push for Slow-Mag and we're excited to let the world know about this amazing product," Heidi Block, Head of US Marketing at Avrio Health, said, "The campaign does a wonderful job of bringing a key audience insight to light."
"If ever there were a product that fits a need, this is it," said Deacon Webster, Co-Founder and Chief Creative Officer, Walrus, "We got strong head nods from every 40 something male we spoke with when we'd ask them questions like, 'does bending over make you groan?' The work simply lets them know that they're not alone, and that Slow-Mag might be able to help."
Media for the campaign was also planned and bought by Walrus, which allowed for maximum customization of every element so everything feels considered.
"We were able to bring a lot of really interesting ideas to life in this one because of the close collaboration between media and creative," said Walrus Media Communications Director Kevin Porter, "We've got everything from magazine cover wraps in physical therapists' offices, to a custom recording on softball leagues' rain out hotline."

DSHEA Statement - These statements have not been evaluated by the Food and Drug Administration. This product is not intended to diagnose, treat, cure or prevent any disease.
About Avrio Health L.P. (Slow-Mag®):
Avrio Health L.P. is a privately held consumer products company that provides everyday wellness solutions in the digestive health, infection management and nutritional supplement segments, commercially headquartered in NYC. We take an innovative approach to everyday health and offer high quality, technology led, affordable solutions that help people to be healthy and live better. Our trusted products have been used to safeguard health and wellness for generations, and we continuously look for ways to provide meaningful product and technology advancements that meet the dynamic needs of consumers' busy lifestyles.
About Walrus:
Walrus is an independent, next generation ad agency with a mission to change the way the world feels about advertising by producing ideas that are smart, funny, and worthy of people's time and intelligence. The agency's ability to make ads that people notice and love has translated into exceptional business results for clients, including Amazon, AMC, Bloomberg, Condé Nast, Emergen-C (Pfizer), General Mills, HBO, Rémy Cointreau and Staples.
Walrus, founded in 2005 by Deacon and Frances Webster, has been recognized by industry awards such as Ad Age Small Agency of the Year, Cannes Lions, Effies, One Show, D&AD, and Communication Arts. The agency leads with its creative philosophy of "calculated misbehavior" - being honest or even self-depreciating for the best results. Combining this lens with the tenets of traditional advertising (storytelling, strategy, stunts, entertainment, big ideas, production value and brand consistency) and the modern advantages of digital advertising (data, optimization, user experience and efficiency) means Walrus' work is smarter, less predictable, more efficient, and platform native.
You can view the video spots here.