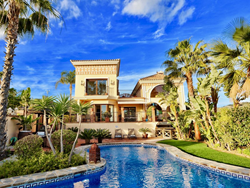 AUSTIN, Texas (PRWEB) July 11, 2018
If summering in a seaside villa seems exclusive to the rich and famous, think again. HomeAway® – the site travelers use to book beach houses, cabins, condos and more – today unveiled its first-ever Affordable Luxury Collection, proving that an opulent getaway needn't come with an equally extravagant price tag.
The selection of 20 vacation homes features luxurious properties from around the world, all for less than $100 per person per night. From European chateaus with million-dollar Mediterranean views to villas with private chefs for a five-star dining experience, the collection caters to tastes of the rich and famous but with budgets lower than the average cost of a hotel room in popular US destinations.
"We kept hearing travelers gasping when they figured out how amazing the vacation homes were that they could get for their money, so we decided to find out just how much luxury you can get by splitting a stay among friends and family," said Melanie Fish, HomeAway's travel expert. "HomeAway's new collection is proof that a 'pinch me' stay in a breathtaking private home is accessible to more people than they realize."
Properties in HomeAway's Accessible Luxury Collection include:

For the entire list, visit http://hmwy.co/AffordableLuxury
###
About HomeAway
HomeAway, based in Austin, Texas, is a leading online marketplace for the vacation rental industry with sites representing more than two million unique places to stay in 190 countries, and is a part of the Expedia Group family of brands. For more information about HomeAway, please visit http://www.homeaway.com.
© 2018 HomeAway. All rights reserved. HomeAway and the HomeAway logo are trademarks of HomeAway. All other trademarks are property of their respective owners.