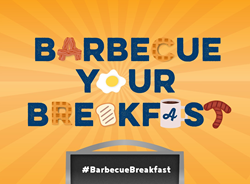 "Barbecuing your breakfast is a delicious and hassle-free way to enjoy the long summer days. We challenge you to try making breakfast staples over the open flame." - Emily McGee, Director, Communications, Hearth, Patio & Barbecue Association (HPBA)
ARLINGTON, Va. (PRWEB) July 11, 2018
Everyone loves to grill burgers and brats but what about bacon and eggs? Breakfast is another occasion to fire up the grill and provides an ideal opportunity to start your summer morning on the right burner.
"Nearly 75 percent of Americans grill to add flavor – the top reason consumers grill according to a recent survey. Add another layer of flavor to breakfast classics by cooking them on the grill," said Emily McGee, Director, Communications, Hearth, Patio & Barbecue Association (HPBA). "Barbecuing your breakfast is a delicious and hassle-free way to enjoy the long summer days. We challenge you to try making breakfast staples over the open flame."
HPBA shares barbecue breakfast tips from the grilling experts:
1. "Prep your breakfast ingredients the night before, so when you wake up, all you have to do is fire up the grill and go!"
– Matt Pittman, Meat Church BBQ
2. "Bacon. Grill bacon for breakfast. Everyone loves bacon but who likes the mess of cooking it indoors? I cook bacon on the grill in a cast iron skillet or a disposable lasagna pan all year long. It cooks evenly and quickly, and the mess is minimal. Just don't place bacon directly on the grates because it may catch your grill on fire."
– Elizabeth Karmel, GirlsattheGrill.com and ElizabethKarmel.com
3. "Classic dishes taste even better on the grill. One example: shrimp and grits. There are endless variations of this classic combo, but one of the best is the grilled version. To make it, wrap bacon around shrimp (add a sliver of jalapeño if you like) and spear shrimp on a water-soaked wooden skewer. Put the skewers over hot coals until the bacon is crisp and serve shrimp on top of spicy cheese grits."
– Robb Walsh, author of the Hot Sauce Cookbook
4. "Use a cast iron skillet to cook eggs, breakfast casseroles or even cinnamon buns while you grill your protein directly on your grill grates to fully maximize your grilling space."
– Robyn Lindars, Grill Girl
5. "There are so many delicious dishes you can grill or even smoke for breakfast. Helpful tools include a large cast iron skillet, a griddle, spatula, tongs, and skewers. A few of my favorite ideas: Use last night's leftover BBQ in a hash. Meat, potatoes, onion, bell peppers, the sky is the limit. Top it off with a nice runny egg. Griddle everything from pancakes and bacon to grilled breakfast sandwiches. One of my favorite grilled breakfast treats is fruit kabobs. Insider tip: Try smoking peaches and drizzling them with honey for a winning combo."
– Bobbi Burleson, Bobbi's Kozy Kitchen
For more information on barbecuing your breakfast, visit http://www.hpba.org. In addition, share a summer selfie of you at the grill as part of our #BarbecueBreakfast contest for a chance to win great prizes. View the contest guidelines.
About the Hearth, Patio & Barbecue Association (HPBA)
The Hearth, Patio & Barbecue Association (HPBA), based in Arlington, Va., is the North American industry association for manufacturers, retailers, distributors, representatives, service firms and allied associates for all types of barbecue, patio and hearth appliances, fuels and accessories. The association provides professional member services and industry support in education, statistics, government relations, marketing, advertising and consumer education.
# # #