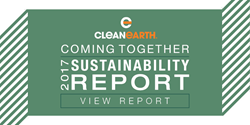 Now, more than ever, we have leveraged the benefits of coming together.
HATBORO, Pa. (PRWEB) July 12, 2018
Clean Earth, Inc., has released its 7th Annual Sustainability Report which provides a snapshot of the company's efforts to improve conditions for its team members as well as its communities, advance environmental stewardship, and enhance the financial strength of its growing organization. This report covers the 2017 calendar year and is prepared in accordance with the Core option under Global Reporting Initiative G4 Sustainability Reporting Guidelines.
Throughout 2017, Clean Earth's sustainability initiatives had a clear and strong focus on safety, growth, community, and technology. Intertwining these focuses, each initiative was pushed to its fullest potential lead by thought leaders of the company.
Chris Dods, President & CEO – Clean Earth, states, "Now, more than ever, we have leveraged the benefits of coming together. In 2017, we incorporated our diverse skills and talents from all levels into driving and improving our sustainability plan. We have gathered to learn, share, and grow with each other and our communities. These gatherings enabled us to have new experiences and be more mindful of how we impact others which has helped us build better working relationships while we forged new ones."
Over the next three to five years, Clean Earth will continue to focus on:

Engaging safety programs that will provide a safer work environment, as well as valuable and measurable information to benchmark success.
Streamlining processes to reduce paper and provide better and more efficient work experiences for our team members.
Offer customers additional functionality in our paperless, online platform.
Clean Earth's full report can be found here: 2017 Annual Sustainability Report
Clean Earth's vision is to create a better future for our people, partners, and planet by turning specialty waste into recycling opportunities. Everyday Clean Earth takes a hands-on, dedicated approach to recycling and beneficially reusing waste that would otherwise go into landfills. With twenty-six (26) facilities throughout the United States, in 2017 alone, Clean Earth recycled 3.57 million tons of soil and dredged material, 7 million pounds of aerosol products, 2.1 million pounds of metal from aerosols, 5.7 million pounds of electronics, 2.1 million pounds of batteries, and 5.8 million pounds of lamps.
To learn more about Clean Earth please visit us at http://www.cleanearthinc.com/ or call 877.445.3478.
Clean Earth is one of the largest specialty waste companies in the United States providing remediation, disposal, recycling, and beneficial reuse solutions for contaminated soil, dredged material, and hazardous and non-hazardous waste.  Headquartered in Hatboro, Pennsylvania, it operates a network of 26 full-service facilities. As a leader in the industry, Clean Earth has the experience and capabilities to provide efficient, effective waste recycling and disposal solutions. Our vast portfolio of technologies and services touches nearly every industry that generates waste including energy, infrastructure, commercial, industrial, retail, and healthcare markets.