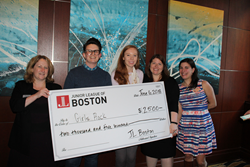 "Our investment in the grant recipients will positively impact the lives of many people in the Greater Boston area." - Karen Page, 2017-2018 JL Boston President
BOSTON (PRWEB) July 12, 2018
The Junior League of Boston (JL Boston), a 112-year-old women's volunteer organization that improves the Boston-area community through effective action of trained volunteers, is excited to announce the recipients of their 2017-2018 Community Assistance Grants. Each organization received $2,500 to help them continue to serve the greater Boston community. The grant recipients were chosen based on financial need, their plans for using the funds, and the compatibility of their missions with JL Boston's focus on promoting the wellness of girls.
"We were inspired by the incredible applicant pool, whose programs support our mission at the individual, group and community level," said Karen Page, 2017-2018 JL Boston President. "Our investment in the grant recipients will positively impact the lives of many people in the Greater Boston area."
This year, the Junior League received 59 applicants for grants. The candidate organizations serve a diverse group of constituents, from single mothers and foster children to minority populations and senior citizens. The eight recipients, who were recognized at a reception on June 5, are:
1. Art Resource Collaborative for Kids (ARCK) is an Arts Integration Program at Boston Public Schools. Their mission is empowering students with high-quality arts education that fosters culture and community while also supporting a school's learning objectives.
2. Boston Centers for Youth & Families received a grant for their organized Teen Nights. Their mission is to enhance the quality of life for Boston residents by partnering with community center councils, agencies, and businesses to support neighborhood needs.
3. Boys & Girls Club of Stoneham & Wakefield received a grant in support of their Girls STEM Program. Their mission is to enable all young people, especially those who are in most need, to reach their full potential as productive, caring, responsible citizens.
4. Girls Rock received a grant for their after-school Music & Arts Program. Girls Rock Campaign Boston empowers girls to believe in themselves by providing a supportive community that fosters self-expression, confidence, and collaboration through musical education and performance.
5. Healthy Waltham was awarded a grant for their Senior Citizen Outreach Program. Healthy Waltham exists to promote healthy lifestyles and well-being for families and underserved populations in Waltham through educational and collaborative programs that engage residents in healthy cooking and gardening, physical activity and involvement in natural open space within the community.
6. More Than Words received a grant for their Life Essentials Workshops & Training. More Than Words is a nonprofit social enterprise that empowers youth who are in the foster care system, court involved, homeless, or out of school to take charge of their lives by taking charge of a business.
7. Project Hope was awarded a grant for their Adult Education Program & Speakers Bureau. Project Hope in Boston works in partnership with families so they can move up and out of poverty.
8. YW Boston received their grant to support their Girl's Health Program. YW Boston is dedicated to eliminating racism, empowering women, and promoting peace, justice, freedom, and dignity for all.
"We believe we can be most effective not only by fielding our own community-impact projects, but by also supporting organizations who are already making significant contributions to the Boston area," said Michelle Lentz, 2018-2020 JL Boston President. "We recognize that meaningful change takes a collaborative effort."
Applications for the 2018-2019 Community Assistance Grants will become available in early 2019 on http://www.jlboston.org.
About Junior League of Boston
The Junior League of Boston, Inc. is an organization of women committed to promoting voluntarism, developing the potential of women and improving communities through the effective action and leadership of trained volunteers. Its purpose is exclusively educational and charitable.
To donate to JL Boston and help expand our impact, please visit https://www.jlboston.org/individual-donors/