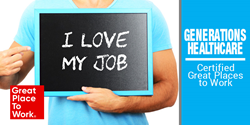 "We hope our employees will feel proud about the survey results. After all, they are the ones who make it such a great place to work! We also hope our future employees will take the results to heart."
SANTA ANA, Calif. (PRWEB) July 11, 2018
Independent analysts at Great Place to Work® have certified Generations Healthcare as a great workplace. Generations employees completed anonymous surveys to help their company earn this title, rating categories including credibility, fairness, consistency, camaraderie and pride.
"To us, the things that really matter are things you can't quantify: warmth, generosity, talent," said Director of Human Resources Merry Rogers. "But this survey is quantifiable evidence that these 'soft' qualities characterize our employees' experience. I am immensely pleased at the outcomes of the survey, but more than anything, I am grateful for the unwavering commitment we have to our staff, which is why we chose to have the survey in the first place.
"We hope our employees will feel proud about the survey results. After all, they are the ones who make it such a great place to work! We also hope our future employees will take the results to heart."
In addition to believing that caring for the elderly and infirm is a special stewardship, Generations also makes caring for employees a high priority, as the survey results show. Here are some highlights:

Scored 79 percent on the trust index (needed to earn at least 70 percent)
Exceeded the Great Companies benchmark of 84 percent by earning an 88 percent on the item "My work has special meaning: this is not 'just a job'"
Met the Great Companies benchmark of 87 percent on the item "I feel I make a difference here"
Earned an 88 percent score on the item "People here are treated fairly regardless of their gender"
Scored 74 percent or above on each of the five dimensions of trust: credibility, respect, fairness, pride and camaraderie
"We applaud Generations Healthcare for seeking certification and sharing their employees' feedback," said Great Place to Work's Certification Program's Executive Vice President Kim Peters. "These ratings measure its capacity to earn its own employees' trust and create a great workplace – critical metrics that anyone considering working for or doing business with Generations Healthcare should take into account as an indicator of high performance."
To see a summary of the ratings, visit http://reviews.greatplacetowork.com/life-generations-healthcare.
About Generations Healthcare
Generations Healthcare began operations in January, 1998, with a single, 89-bed skilled nursing facility. Since that time, Generations has grown to 27 facilities comprising nearly 3,100 beds. When Generations began business, it started with a very simple strategy: focus on quality and service while remaining mindful of the challenges and changes facing older adults in today's world. Since its inception, Generations has established an excellent reputation in the communities served by its facilities. Generations has built this reputation through a concerted focus on quality and service. Generations operates in the following areas: Northern California (Concord, Sunnyvale, Modesto, Sacramento, San Francisco, Pleasanton, San Jose, Auburn, San Rafael, Daly City and Walnut Creek), Southern California (Canoga Park, Upland, Lompoc and Newport Beach), the San Diego area (La Mesa, National City, Lakeside, San Diego and Santee) and outside of Las Vegas in Henderson, Nevada. For more information on Generations Healthcare, visit http://www.lifegen.net.
About Great Place to Work®
Great Place to Work® is the global authority on high-trust, high-performance workplace cultures. Through proprietary assessment tools, advisory services and certification programs, including Best Workplaces lists and workplace reviews, Great Place to Work® provides the benchmarks, framework and expertise needed to create, sustain and recognize outstanding workplace cultures. In the United States, Great Place to Work® produces the annual Fortune "100 Best Companies to Work For®" list and a series of Great Place to Work® Best Workplaces lists, including lists for Millennials, Women, Diversity, Small and Medium Companies and over a half dozen different industry lists.