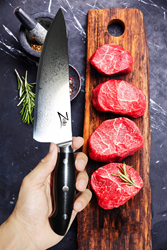 Zelite Infinity Knives - Built-to-Last!
(PRWEB) July 16, 2018
Ben Clarke, Co-Founder at Zelite reflects on how the industry has changed over the past few years and how instrumental his business has been in that change process. Early 2015, chefs around the world suffered a long-standing trade off with their kitchen knives between sharpness-edge retention vs. rust-stain resistance. If you wanted sharpness and edge retention, you would choose a high carbon steel knife, with the downside being higher maintenance due to the need to oil to prevent rusting and stains. Clarke explained chefs preferring a lower maintenance blade would choose stainless steel, but here the downside is the ability of the knife to take a very sharp edge and to maintain it. Zelite changed the industry when they first launched their famous Alpha-Royal Japanese Damascus knives back in 2015 which put an end to this long-standing trade off as their knives offered the ability to take an extremely sharp edge, maintain it for a long time and also come with rust and stain resistance properties. No longer did chefs have to choose one or the other.
Since then, a lot of competitors have followed in Zelite's footsteps which is very exciting for professional chefs as choice is so much better these days, explained Clarke.
When asked about growth, Clarke was excited to tell the Zelite story explaining Zelite grew from only 3 products in the USA in 2015 to now 90; 45 in the USA and 45 in the UK all sold via the Amazon platform. Next on the radar for Zelite is market expansion to Europe and opening up the product range offering complementary items such as sharpening systems, carry cases and knife storage solutions.
The immediate focus right now for Amazon sellers is prime day. Prime day 2017 was crazy says Clarke and suggests 2018 is going to be even bigger. Zelite like many other sellers will be offering some Amazing deals during prime week, both in the USA and UK so Clarke recommends customers to add items on their wish-list so they will be notified well in advance by Amazon of up and coming deals.
Clarke closed the interview on an extremely exciting note, letting slip that Zelite will be running lots of Prime-Week and Prime-day deals in both markets so recommends buyers to take advantage of the crazy deals that will be coming up. Prime day runs from noon on the 16th to midnight on the 17th July 2018. Prime week ends on midnight Sunday 22nd July.
Zelite Infinity knives are sold exclusively on Amazon.