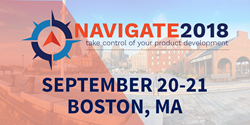 We want to make this conference as valuable an experience as possible for our guests.
LEXINGTON, Mass. (PRWEB) July 12, 2018
Cognition Corporation, a software company specializing in medical device compliance and commercialization, has announced its 2018 user conference, NAVIGATE2018. The annual conference will be hosted at the Boston Marriott Long Wharf Hotel in Boston, Massachusetts September 20-21.
"We love holding these user conferences," says David Cronin, CEO of Cognition Corporation, "and we're very excited for NAVIGATE2018. It's going to be a fun, informative experience for all."
This two-day conference will showcase speakers from across life science industries discussing the latest topics in regulatory compliance, quality, and product development. A number of panels and talks about how organizations large and small use Cognition's products and services in their design controls and risk management activities will also take place.
"We've got some great talks lined up," says Mr. Cronin. "We want to make this conference as valuable an experience as possible for our guests."
Topics for talks include: best practices for medical device cybersecurity, holistic risk management approaches, systems engineering in life sciences, challenges in combination products development, using the Cognition Cockpit Platform in device remediation products, and more.
There will also be presentations and discussions from Cognition detailing the company's latest products, services, and visions for the future. Attendees will have the opportunity to not just learn about the latest happenings in the industry, but also to get face-to-face with Cognition's team.
"By allowing networking opportunities with our team at Cognition, we hope to better encourage communication and collaboration in regard to all our products and services," says Mr. Cronin. "It will also help us understand how to better serve our customers and users."
To register for the conference, click here.
Cognition Corporation, based in Lexington, Massachusetts, has offered solutions for product development compliance for more than fifteen years. Cognition offers the Cognition Cockpit Platform®, along with engineering and validation support, and industry expertise. Thousands of users worldwide use Cognition solutions to manage their product development process and meet regulatory, performance, and-time to-market goals. For more information, visit http://www.cognition.us or call (781) 271-9300.