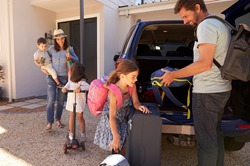 "Helpfulness is what insurance should be all about," said Ben Mellino, senior assistant vice president in Amica's sales and client services department. "We designed WelcometoAmicaAuto.com to help consumers conduct research, answer questions, make smart decisions and gain greater peace of mind."
LINCOLN, R.I. (PRWEB) July 12, 2018
Amica understands that owning an automobile is a big responsibility. That's why we've created a new website to offer helpful tips and tools to steer consumers in the right direction when it comes to auto ownership, maintenance and insurance.
What happens if a friend borrows your car and gets into an accident? How much auto coverage do you really need? Are you planning a vacation and wondering about rental car insurance?
Answers to these questions, and more, are now available at WelcometoAmicaAuto.com. Amica's new site allows easy access from any device, making it simple to share useful articles, checklists and infographics with friends and family through social media, email or text messages.
"Helpfulness is what insurance should be all about," said Ben Mellino, senior assistant vice president in Amica's sales and client services department. "We designed WelcometoAmicaAuto.com to help consumers conduct research, answer questions, make smart decisions and gain greater peace of mind."
The site offers the following resources:

How to Gauge Just How Much Coverage You Need
Understanding Coverage: Part 1 – Liability
Understanding Coverage: Part 2 – Collision and Comprehensive
Does Renting a Vehicle Require Buying Insurance?
New Technology, Safer Driving
And much more!
To learn more, visit WelcometoAmicaAuto.com.
About Amica Insurance
Amica Mutual Insurance Co., the nation's oldest mutual insurer of automobiles, was founded in 1907. The company, based in Lincoln, Rhode Island, is a national writer of auto, home, marine and umbrella insurance. Life coverage is available through Amica Life Insurance Company, a wholly owned subsidiary. Amica employs more than 3,800 people in 44 offices across the country. For more information, visit Amica.com.
Media inquiries can be sent to MediaCenter(at)amica(dot)com.
Twitter: Amica
Facebook: Amica Mutual Insurance Co.