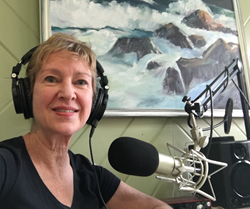 ". . . the Leadville way--persistence, you don't quit, you dig deep."~Ken Chlouber
LEADVILLE, Colo. (PRWEB) July 27, 2018
"I've got one question to ask you," author and podcaster Laurel McHargue preps her interviewees. "Why? Why would anyone want to race 100 miles through the Rocky Mountains at elevations over 10,000 feet?"
McHargue has recorded several answers to her question from men and women who have competed and continue to compete in the Leadville Race Series 100-Mile Mountain Bike Race and the 100-mile running race each year. This year's mountain bike race happens on August 11th, with the running race just one week later on August 18th.
Founding race director Ken Chlouber is well known for his "Grit, Guts, and Determination" speech to participants before these epic races. He spoke with McHargue in May and shared stories about his past personal challenges and what he plans to accomplish in his upcoming eighth decade of life.
Chlouber talked about running the first 100 race in 1983 and unfairly judging a person he never imagined would cross the finish line. It got him thinking about how he could inspire other unlikely finishers, and his pre-race speech is designed to give racers "that bit of ammunition to pull the trigger whenever they reach that moment that says 'I'm gonna quit.'" Chlouber espouses "the Leadville way--persistence, you don't quit, you dig deep."
Since the Chlouber interview, McHargue has recorded stories and racing tips from people including Ty and Roxanne Hall, Marvin and Lisa Sandoval, Elden Nelson (a.k.a., "Fatty," who has his own podcast about racing), Rodrigo Jimenez, and tandem bike racers Jana and David Zangerle.
McHargue continues to interview race participants with informative, entertaining stories, "so check out my podcast Alligator Preserves and look for my 'Special Series' titles. And if you'd like to share your racing story, contact me!"
She added, "I suppose I should interview my husband soon. He's a four-time Leadman!"
NOTE: The Leadville Race Series is now owned and operated by Life Time Fitness, Inc.
Contact Laurel McHargue at laurel@strackpress.com and sign up for her mid-monthly newsletter on her website at leadvillelaurel.com
Find her books on Amazon
Subscribe to Alligator Preserves on iTunes, Stitcher, or wherever you get your podcasts.