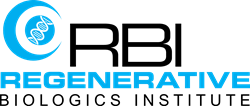 "The best part about it is that it is my own body healing itself and it doesn't involve drugs or surgery." - Fred galvin
VERO BEACH, Fla. (PRWEB) July 12, 2018
Fred Galvin is a retired Marine who served as an enlisted Marine and as an officer. He commanded Force Reconnaissance Marines in Africa, Asia, Iraq, the Persian Gulf and commanded a Marine Special Operations Task Force in Afghanistan. His military background includes over 26 years as a United States Marine, 10 years commanding Marine units, 6 overseas deployments on Navy ships, and 5 combat deployments with zero soldiers Killed In Action under his command. Mr. Galvin now operates the Go Commando Show (http://www.gocommandoshow.com) and seeks to empower his audience to improve health and leadership through unconventional methods.
Fred sustained many injuries while serving in the Marines and sought out the best medical treatments to help his body heal. He found the Regenerative Biologics Institute (http://www.rbistemcell.com) in Vero Beach, Florida that was offering a cutting edge stem cell therapy called RegenMax™ Injection Therapy.
"The RegenMax non-invasive stem cell therapy allowed me to return to the pain free and active lifestyle that I enjoyed," said Mr. Galvin. "Being a Marine for nearly 27 years in very demanding combat operations took a tole on my body, leaving my back and knees nearly destroyed. Before the treatment, I was not able to stand for more than a few minutes due to the pain I would start to get. Since the stem cell treatment, I feel phenomenal with much less pain and my range of motion has also improved. The best part about it is that it's my own body healing itself and it doesn't involve synthetic drugs or surgery. I recommend it for others who face pain and limited mobility due to injuries or arthritis."
The Technique
RegenMax™ (http://www.regenmax.com) is a composition of super concentrated stem cells, platelets and bioactive growth factors. This powerful regenerative cocktail is isolated from a patient's own body in a non-surgical outpatient procedure so patients have minimal recovery time. Unlike amniotic, umbilical or placenta type products, RegenMax Injection Therapy contains living, highly functional stem cells so it maximizes the opportunity for tissue regeneration offering benefit to combat soldiers that have been injured by high-impact explosions and other activities during war. This treatment has been used to treat a wide range of musculoskeletal injuries and degenerative arthritis in wounded soldiers, active seniors and athletes who might otherwise face invasive surgeries with long recovery times, chronic pain and a diminished quality of life.
"It is our organizational philosophy to seek progressive cutting edge therapies in regenerative medicine. It is our distinct honor to use these therapies to help heal those who have sacrificed themselves in service to our country," said Dr. Brett Haake, RBI's Medical Director.
About the Regenerative Biologics Institute
RBI is the premier provider of high quality regenerative biologics including stem cell therapy and platelet rich plasma (or PRP) to patients suffering from a variety of orthopedic conditions. The RBI team consists of experienced physicians and stem cell scientists that have been developing advanced cell processing techniques and treatment protocols for over 15 years and have been involved in the treatment of thousands of patients worldwide. RBI's goal is to treat the underlying causes of diseases and tissue damage for patients instead of just treating their symptoms. This is done by harnessing a patient's own incredible healing power, concentrating it and then injecting it directly into an area of need such as an injured or arthritic joint.