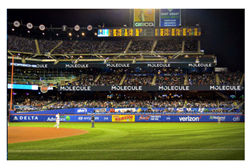 "We are happy to have Molecule as a new partner of the New York Mets this season," said Jim Cavallini, Director of Performance and Sport Science for the New York Mets.
CHICAGO (PRWEB) July 12, 2018
Molecule, makers of a leading edge sleep system that is used by the world's best athletes has formalized a partnership with the New York Mets. Molecule products will be available for all Mets players at Citi Field. In addition, Molecule banners will be displayed during Mets home games as a proud partner of the team.
Molecule's first-of-its-kind mattress and sheets are designed to regulate core body temperature with proprietary Air-Engineered™ technology. The proprietary foam used in their mattresses delivers almost 3 times the airflow of the leading competition, resulting in better heat dissipation, and ultimately better quality sleep. Molecule sheets include a unique blend of TENCEL™ and cotton that allow for more than twice the air permeability of traditional cotton sheets.
"Molecule is proud to go to bat with the New York Mets," said Channing Chor, Executive Vice President of Business Development for Molecule. "The Mets players understand the importance of rest not just for better performance during games, but also for daily practices and overall wellness."
Using patented Air-Engineered technology and proprietary foam, Molecule differentiates themselves by helping sleepers achieve more non-REM or slow wave - sleep, the deepest stage of sleep, which enables the body to best restore its muscles, joints and bones. Each component of Molecule products have been engineered to work synergistically to maximize comfort and heat dissipation for the best recovery-focused sleep.
"We are happy to have Molecule as a new partner of the New York Mets this season," said Jim Cavallini, Director of Performance and Sport Science for the New York Mets. "We are excited to integrate their products at Citi Field and hope to continue the partnership for years to come."
"The Mets rely on only the best technology when it comes to equipment, apparel, nutrition and performance essentials to play at their best," said Raymond Lyle, Co-Founder and Chief Marketing Officer for Molecule. "It only makes sense that the team would also integrate the best technology into sleep with Molecule products."
Molecule products are available online at onmolecule.com
About Molecule
Molecule, a premier performance sleep company, designs products that are Air-Engineered™ for cooler sleep, helping people achieve optimal rest and recovery so they can maximize performance in their active lifestyles. Developed by a team of renowned sleep scientists, neurologists and engineers, Molecule products are trusted by elite athletes such as Russell Wilson, Nastia Liukin, Ryan and Sara Hall and Susan Francia. Molecule products are designed in the USA and are delivered directly to your door with free shipping and risk-free trials. For more information, visit us at http://www.onmolecule.com/