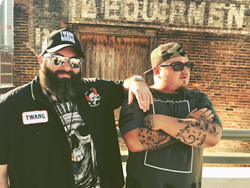 NASHVILLE, Tenn. (PRWEB) July 13, 2018
Kentucky based AmeriFlow duo Twang and Round have joined The Backwoods Riot Music Festival alongside Demun Jones, Adam Calhoun, Seckond Chaynce, and Bezz Believe that is traveling across America this summer. The Backwoods Riot Music Festival will be hosted by "The King of Debauchery" Mike Busey and will crisscross the country bringing together the best in country rap music while combining the wildest off-road entertainment show on the planet.
Something new is stirring in mud bogs and backcountry fields across the southeast. From out of these dirt muck roads the Backwoods Riot Festival has risen, seeking to usher in a new era of festival activity. These multi-genre music festivals will be bringing together some of the best future acts the industry has to offer. Pairing exciting newcomers with more established crowd pleasers, this down and dirty multi-day festival will offer primitive camping mixed with everything from hip-hop, rock, metal, and country. Blending this mix of music creates a cocktail of excellent entertainment. Each of these events will be hosted in locations that typically never see a stage but will now become the epicenter of off-road recreation (see schedule below).
Coloring outside the lines of any genre-specific formula takes courage, Twang and Round's musical palette is much more refined, which allowed them to create the AmeriFlow genre. The group can go from blasting the likes of Creedence Clearwater, The Black Crowes, and Lynyrd Skynyrd one minute, to seamlessly mixing in UGK, OutKast, and Beastie Boys the next. All of these elements come together to give Twang and Round an authentic signature sound that bridges the gaps between country and hip-hop
Tour Dates:
JUL 24 - Bristol, TN @ Crosswhite Patton
JUL 25 - Annapolis, MD @ Union Jack's of Annapolis
JUL 26 - Reading, PA @ Reverb
JUL 27 - Laconia, NH @ Whiskey Barrel
JUL 28 - Andover, NY @ Tall Pines
JUL 29 - Flint, MI @ The Machine Shop
JUL 30 - Harrison, OH @ Blue Note
JUL 31 - Joliet, IL @ The Forge
AUG 01 - Sioux Falls, SD @ Bigs Bar
AUG 07 - Denver, CO @ Cervantes Masterpiece Ballroom
AUG 08 - Omaha, NE @ Bourbon Saloon
AUG 09 - Kansas City, MO @ The Riot Room
AUG 10 - Springfield, MO @ The Outland Ballroom
AUG 11 - Fort Worth, TX @ The Fairmount
SEP 01 - Grand Junction, CO @ The Door Dinosaur
SEP 29 - Kiln, MS @ South Mississippi Off Road, and RV Park
OCT 13 - Jacksonville, TX @ River Run Offroad Park
OCT 27 - Bowling Green, KY @ Spillway Bar & Grill
About Thirteen Skulls Entertainment:
Twang and Round recently signed a long-term deal with Thirteen Skulls Entertainment and debuted the brand new album "Way I Was Raised." Thirteen Skulls Entertainment was founded by music industry veteran Ron A. Spaulding and Major League Baseball Hall of Famer Frank Thomas and boasts and exclusive partnership with AMPED Distribution/Alliance Entertainment. Thirteen Skulls Entertainment focuses a new genre entitled "AmeriFlow", which is a musical hybrid of country, rap, and rock. The label provides a full range of services in the fast-changing music business and offers artists home with the necessary tools to nurture and incubate creativity without constraints. With the focus on creating AUTHENTIC music, Thirteen Skulls Entertainment's legacy is defined by creativity and uncompromising commitment to artistry.