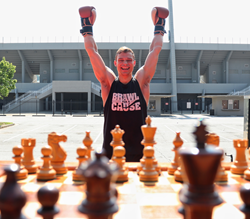 Chess-boxing combines the mind and body, brain and brawn, in what I consider the ultimate form of competition.
ATLANTA (PRWEB) July 12, 2018
Boxer and entrepreneur Matt Thomas of Atlanta, GA will be the first-ever American to represent Team USA at the Chess-boxing Amateur World Championship. The world's best amateur chess-boxers will head to Kolkata, India late this month to show off both their physical and mental strengths. Twenty-eight-year-old Thomas, who will be accompanied by Kevin Vaughn-Carber of Iowa, will fight in the cruiser-weight division (85-90kg). The two will join over 120 competitors from thirteen different countries.
The World Chess-Boxing Organization, the sole sanctioning body for Chess-boxing, was founded in 2003. The sport is a hybrid that combines two traditional pastimes, chess and boxing. Competitors fight in five alternating three-minute rounds of chess and boxing and win by getting either a checkmate or a knockout. Athletes in this year's World Championship will compete over three days to find the smartest, toughest person on the planet, according to the organization.
"I never thought I would be representing my country in a world championship," said Thomas. "When I heard about a sport that combined my two favorite competitions, one a passion from my childhood and the other a passion from college, I knew I was meant to do it. Chess-boxing combines the mind and body, brain and brawn, in what I consider the ultimate form of competition."
Thomas has had a stellar lineup of all-stars helping him prepare for the grueling competition. From the former Cuban Olympic Boxing coach Isadore Nicolas to the founder of Chess Atlanta and former Colombian National Champion Carlos Perdomo, he has prepared hard on the board and in the ring to represent the USA proudly.
"I'd be lying if I said I wasn't scared, but I am proud of my progress," exclaimed Thomas. "It feels like a lot of pressure, having this be the first time that the USA has been included. But it's also a big opportunity to surprise some competitors as an underdog. I really want to do my best to do the country proud."
Thomas will be fighting to raise funds and awareness for his nonprofit, Brawl for a Cause, which empowers everyday people to literally fight for what they believe in. The annual event, held last year at Mercedes-Benz Stadium, home of the 2019 Super Bowl, raised over $200,000 for 30 causes for which people were willing to take a punch for. Each competitor, known as a Brawler, is gifted 8 weeks of training with top coaches and will end in a Vegas-style casino fight.
"I want to inspire more people to get in the ring and fight for what they believe in," said Thomas. "There are a lot of bake sales, car washes and galas out there to raise money for charity, but how often can someone take a punch for what he or she believes in most?"
Weigh-ins for the 2018 Chess-boxing Amateur World Championship begin on Wednesday, July 25, 2018, in Kolkata. The opening ceremony and competitor matching will take place on Thursday, July 26, 2018. Matches will officially begin on Friday, July 27, 2018, and conclude on Sunday, July 29, 2018, where a winner will be announced.
Interviews will be available upon request.