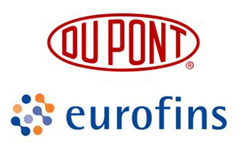 With DuPont's strain assays, Eurofins has become the first third-party laboratory to support identification to strain level, completing our portfolio of accurate testing for full label verification of potency, stability and identification.
MADISON, Wis. (PRWEB) July 12, 2018
DuPont Nutrition & Health and Eurofins have developed and validated strain-level identification assays in probiotic testing, leading the way for industrywide product integrity and label accuracy.
DuPont, a leading manufacturer of probiotics that are scientifically proven to have health benefits, routinely utilizes new technologies to improve its methods of strain identification. Eurofins will employ DuPont's polymerase-chain-reaction (PCR) genotyping assays to identify probiotics at the strain level in both raw materials and finished products.
An Industrywide Challenge
The need for strain-specific testing is clear: Numerous studies have found inaccuracies in probiotic labeling, with issues including incorrect taxonomy, missing species and unlabeled species.
"These findings emphasize the necessity of reliable methods to determine the taxonomy of microbial populations in probiotic products," said Wesley Morovic, scientist in the Genomics & Microbiome Science group at DuPont Nutrition & Health. "However, because strain identification has not historically been required, little investment has been made to support the industry in doing so. DuPont is one of few manufacturers to share its genetic identification methods with customers and the public."
By making its genotyping PCRs available and working with Eurofins to develop accurate tests, DuPont is leading the industry toward label traceability.
"Many manufacturers understand that verifying raw materials and identifying finished products is as important as quantifying potency, for both label compliance and manufacturer confidence," said Mehgan Styke, business development manager at Eurofins. "But until now, the tools for specific and accurate identification were either inaccessible or had yet to be developed; adding to the challenge are the nuances of probiotic products. With DuPont's strain assays, Eurofins has become the first third-party laboratory to support identification to strain level, completing our portfolio of accurate testing for full label verification of potency, stability and identification."
A Science-Based Solution
"Our goal is to use science-driven solutions to bring a higher level of transparency to the probiotics market," said Megan DeStefano, global marketing manager, Probiotics, DuPont Nutrition & Health, "benefiting both manufacturers, who are under increased pressure to identify strains and are able to make health claims associated with specific ones, and consumers. We have worked closely with Eurofins to develop this service and are fully confident in their capabilities."
"These methods are at a cost and efficiency in line with the current less accurate and less specific methods," said Michael Drozd, president of Eurofins AgBio. "We are excited to leverage the collective knowledge of DuPont and Eurofins BioDiagnostics to bring the industry to a higher level of transparency."
To learn more about DuPont's probiotic cultures, visit http://www.danisco.com/product-range/probiotics/.
To learn about Eurofins, visit http://www.eurofinsus.com/probiotics.
About DuPont Nutrition & Health
DuPont Nutrition & Health, a DowDuPont Specialty Products Division business, combines in-depth knowledge of food and nutrition with current research and expert science to deliver unmatched value to the food, beverage, pharmaceutical and dietary supplement industries. We are innovative solvers, drawing on deep consumer insights and a broad product portfolio to help our customers turn challenges into high-value business opportunities. More information is available at http://www.food.dupont.com.
About DowDuPont Specialty Products Division
DowDuPont Specialty Products, a division of DowDuPont (NYSE: DWDP), is a global innovation leader with technology-based materials, ingredients and solutions that help transform industries and everyday life. Our employees apply diverse science and expertise to help customers advance their best ideas and deliver essential innovations in key markets including electronics, transportation, building and construction, health and wellness, food and worker safety. DowDuPont intends to separate the Specialty Products Division into an independent, publicly traded company. More information can be found at http://www.dow-dupont.com.
About Eurofins
Eurofins Scientific through its subsidiaries (hereinafter sometimes "Eurofins" or "the Group") believes it is the world leader in food, environment and pharmaceutical products testing and that it is also one of the global independent market leaders in certain testing and laboratory services for agro-science, genomics, discovery pharmacology and for supporting clinical studies. In addition, Eurofins is one of the key emerging players in specialty clinical diagnostic testing in Europe and the USA. With over 30,000 staff in 400 laboratories across 42 countries, Eurofins offers a portfolio of over 150,000 analytical methods for evaluating the safety, identity, composition, authenticity, origin and purity of biological substances and products, as well as for innovative clinical diagnostic. The Group objective is to provide its customers with high-quality services, accurate results on time and expert advice by its highly qualified staff. More information about testing services can be found at http://www.eurofinsus.com/probiotics.
Eurofins is committed to pursuing its dynamic growth strategy by expanding both its technology portfolio and its geographic reach. Through R&D and acquisitions, the Group draws on the latest developments in the field of biotechnology and analytical chemistry to offer its clients unique analytical solutions and the most comprehensive range of testing methods.
As one of the most innovative and quality oriented international players in its industry, Eurofins is ideally positioned to support its clients' increasingly stringent quality and safety standards and the expanding demands of regulatory authorities around the world.
Important disclaimer
This press release contains forward-looking statements and estimates that involve risks and uncertainties. The forward-looking statements and estimates contained herein represent the judgment of Eurofins Scientific's management as of the date of this release. These forward-looking statements are not guarantees for future performance, and the forward-looking events discussed in this release may not occur. Eurofins Scientific disclaims any intent or obligation to update any of these forward-looking statements and estimates. All statements and estimates are made based on the information available to the Company's management as of the date of publication, but no guarantee can be made as to their validity.
FORWARD-LOOKING STATEMENTS
This communication contains "forward-looking statements" within the meaning of the federal securities laws, including Section 27A of the Securities Act of 1933, as amended, and Section 21E of the Securities Exchange Act of 1934, as amended. In this context, forward-looking statements often address expected future business and financial performance and financial condition, and often contain words such as "expect," "anticipate," "intend," "plan," "believe," "seek," "see," "will," "would," "target," and similar expressions and variations or negatives of these words.
On December 11, 2015, The Dow Chemical Company ("Dow") and E. I. du Pont de Nemours and Company ("DuPont") entered into an Agreement and Plan of Merger, as amended on March 31, 2017, (the "Merger Agreement") under which the companies would combine in an all-stock merger of equals transaction (the "Merger"). Effective August 31, 2017, the Merger was completed and each of Dow and DuPont became subsidiaries of DowDuPont (Dow and DuPont, and their respective subsidiaries, collectively referred to as the "Subsidiaries").
Forward-looking statements by their nature address matters that are, to varying degrees, uncertain, including the intended separation, subject to approval of the Company's Board of Directors and customary closing conditions, of DowDuPont's agriculture, materials science and specialty products businesses in one or more tax-efficient transactions on anticipated terms (the "Intended Business Separations"). Forward-looking statements are not guarantees of future performance and are based on certain assumptions and expectations of future events which may not be realized. Forward-looking statements also involve risks and uncertainties, many of which are beyond the Company's control. Some of the important factors that could cause DowDuPont's, Dow's or DuPont's actual results to differ materially from those projected in any such forward-looking statements include, but are not limited to: (i) costs to achieve and achieving the successful integration of the respective agriculture, materials science and specialty products businesses of Dow and DuPont, anticipated tax treatment, unforeseen liabilities, future capital expenditures, revenues, expenses, earnings, productivity actions, economic performance, indebtedness, financial condition, losses, future prospects, business and management strategies for the management, expansion and growth of the combined operations; (ii) costs to achieve and achievement of the anticipated synergies by the combined agriculture, materials science and specialty products businesses; (iii) risks associated with the Intended Business Separations, including conditions which could delay, prevent or otherwise adversely affect the proposed transactions, including possible issues or delays in obtaining required regulatory approvals or clearances related to the Intended Business Separations, associated costs, disruptions in the financial markets or other potential barriers; (iv) disruptions or business uncertainty, including from the Intended Business Separations, could adversely impact DowDuPont's business (either directly or as conducted by and through Dow or DuPont), or financial performance and its ability to retain and hire key personnel; (v) uncertainty as to the long-term value of DowDuPont common stock; and (vi) risks to DowDuPont's, Dow's and DuPont's business, operations and results of operations from: the availability of and fluctuations in the cost of feedstocks and energy; balance of supply and demand and the impact of balance on prices; failure to develop and market new products and optimally manage product life cycles; ability, cost and impact on business operations, including the supply chain, of responding to changes in market acceptance, rules, regulations and policies and failure to respond to such changes; outcome of significant litigation, environmental matters and other commitments and contingencies; failure to appropriately manage process safety and product stewardship issues; global economic and capital market conditions, including the continued availability of capital and financing, as well as inflation, interest and currency exchange rates; changes in political conditions, including trade disputes and retaliatory actions; business or supply disruptions; security threats, such as acts of sabotage, terrorism or war, natural disasters and weather events and patterns which could result in a significant operational event for the Company, adversely impact demand or production; ability to discover, develop and protect new technologies and to protect and enforce the Company's intellectual property rights; failure to effectively manage acquisitions, divestitures, alliances, joint ventures and other portfolio changes; unpredictability and severity of catastrophic events, including, but not limited to, acts of terrorism or outbreak of war or hostilities, as well as management's response to any of the aforementioned factors. These risks are and will be more fully discussed in the current, quarterly and annual reports filed with the U. S. Securities and Exchange Commission by DowDuPont. While the list of factors presented here is, considered representative, no such list should be considered to be a complete statement of all potential risks and uncertainties. Unlisted factors may present significant additional obstacles to the realization of forward-looking statements. Consequences of material differences in results as compared with those anticipated in the forward-looking statements could include, among other things, business disruption, operational problems, financial loss, legal liability to third parties and similar risks, any of which could have a material adverse effect on DowDuPont's, Dow's or DuPont's consolidated financial condition, results of operations, credit rating or liquidity. None of DowDuPont, Dow or DuPont assumes any obligation to publicly provide revisions or updates to any forward-looking statements whether as a result of new information, future developments or otherwise, should circumstances change, except as otherwise required by securities and other applicable laws. A detailed discussion of some of the significant risks and uncertainties which may cause results and events to differ materially from such forward-looking statements is included in the section titled "Risk Factors" (Part I, Item 1A) of DowDuPont's 2017 annual report on Form 10-K.
# # #
7/12/18
The DuPont Oval logo, DuPont™ and all products, unless otherwise noted, denoted with ™, ℠or ® are trademarks or registered trademarks of E.I. du Pont de Nemours and Company or its affiliates.