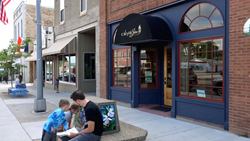 BATTLE LAKE, Minn. (PRWEB) July 12, 2018
The public is invited to meet 56 artists at 24 stops on Art of the Lakes Association's 18th Annual Studio Tour, July 20 – 22. For seventeen years this event has drawn crowds of people to west central Minnesota. With so many artists and studios participating, this year the Studio Tour is likely to be one of Minnesota's largest open studio events. Many of the studios are found on country roads scattered throughout Otter Tail, Douglas and Grant counties. Visitors follow scenic routes over curvy, hilly roads, around lakes and through valleys with views that go for miles.
Studio Tour artists work in a wide range of media, including: textile, glass, pottery, watercolor, oil paint, pastel, jewelry, wire sculpture, wood, photography, and more. Many of the participating studios offer refreshments and some will have additional events during the tour, to enhance visitors' experience. For instance, guests may be able to watch demonstrations on pottery wheels, glass-blowing, and painting. Some studios may have hands-on activities for guests, too.
The 56 Studio Tour artists are all members of Art of the Lakes, a nonprofit association of artists with about 125 members that also operates a gallery at 108 Lake Avenue South in Battle Lake, Minnesota. Last year the organization celebrated its 50th anniversary, and this year the gallery renovated its storefront.
Art of the Lakes publishes a 20-page Studio Tour guidebook. It includes a picture of each artist's work along with their bio and address, and a number code that coordinates with their studio location, shown on detailed maps to help visitors find their way to each studio. Bright yellow signs are posted along the way to make it even easier. The guidebook with maps is free and may be picked up at Art of the Lakes Gallery. It can also be downloaded from Art of the Lakes' website.
To get a sneak peek at what you might encounter on this year's Studio Tour, there will be a Preview Reception at Art of the Lakes Gallery on Saturday, July 14. Samples of each artist's work will be on display, and many of the artists will be present to meet the public from 6 to 8 pm. To enhance the evening, Art of the Lakes has arranged a dance performance by DanceBARN Collective to be held in the nearby art alley at 7 pm.
Art of the Lakes Studio Tour hours are Friday and Saturday, July 20 and 21, from 10 am to 5 pm. Sunday, July 22, studios are open from 11 am to 3 pm. Please note that not all studios are open on Sunday; see guidebook for details. For more information, visit Art of the Lakes' website or call the gallery at (218)864-8606.