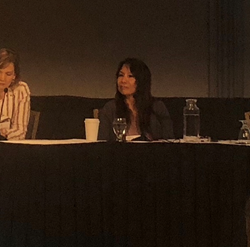 "And those of us who have been litigating sexual harassment cases for years have always been and continue to be part of this 'movement' to seek justice for targets of gender violence and harassment." - Toni Jaramilla
LOS ANGELES (PRWEB) July 13, 2018
Renowned civil and workers' rights attorney Toni Jaramilla was recently a featured speaker at the annual conference of the National Employment Lawyers Association (NELA) in Chicago, which took place on June 29, 2018. Jaramilla discussed the #MeToo movement and #TimesUp initiative, which has prompted widespread attention and awareness on sexual harassment and assault in the workplace, greatly in part due to social media's rapid-fire way of circulating information and the call to action.
"The #MeToo movement seems recent, but the efforts to bring awareness and provide assistance to targets of sexual harassment and assault started decades ago by African American activist, Tarana Burke," said Jaramilla. "And those of us who have been litigating sexual harassment cases for years have always been and continue to be part of this 'movement' to seek justice for targets of gender violence and harassment."
In addition to her presentation at the conference, Jaramilla recently published an article for NELA in which she discussed how the feminist movement has historically excluded women of color. "Sexual harassment and gender violence have plagued society and workplaces throughout history, and the experiences of women of color and from industries outside of Hollywood must be included as part of the discussion," concluded Jaramilla.
Jaramilla has been working with California Employments Lawyers Association (CELA) leaders and other civil rights allies to review language of various new legislation inspired by the #MeToo movement. She has also been involved in the drafting and reviewing of new bills that would ban "secret settlements," also called non-disclosure agreements (NDAs), "gag order provisions" or "hush money" settlements in sexual harassment and assault claims.
About Toni Jaramilla, A Professional Law Corporation
Toni Jaramilla is committed to achieving the best possible results for employees who have experienced problems in the workplace. Serving clients throughout Los Angeles, her focus is on achieving positive social change for workers. Through zealous and ethical advocacy, lawyers at the firm have built a reputation for excellence in the practice of employment and labor law. For more information, please call (310) 551-3020, or visit http://www.jaramilla.com. The office is located at 12100 Wilshire Blvd., Suite 600, Los Angeles, CA 90025.
About the NALA™
The NALA offers small and medium-sized businesses effective ways to reach customers through new media. As a single-agency source, the NALA helps businesses flourish in their local community. The NALA's mission is to promote a business' relevant and newsworthy events and achievements, both online and through traditional media. The information and content in this article are not in conjunction with the views of the NALA. For media inquiries, please call 805.650.6121, ext. 361.