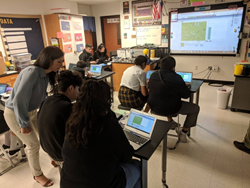 "We built a system whose core features real experiments and hands-on measurement so that students are engaged and own their own data."
MANHATTAN BEACH, Calif. (PRWEB) July 13, 2018
Smart Science Education Inc. chose to enter the five-year old WISE Accelerator contest despite the heavy odds against them. Past winners come from all over the world and also tend toward a specific societal education problem. How could a US-based online science learning program compete against the world for this very valuable WISE program?
The emphasis on a hands-on style for online learning and on keeping the cost low for underserved communities across the world helped to secure a berth for them. Other factors that may have played a role are:

the delivery in HTML5 ensuring device independence and allowing automatic translation into 100 languages,
a program of continuing enhancement of the software and expansion of the library of 300+ lesson units, and
the focus on incorporating only the best pedagogy as demonstrated by prior research.
WISE explains their accelerator, "The WISE Accelerator is designed to support the development of innovative education initiatives with high potential for scalability and positive impact. Selected projects receive the guidance and expertise of qualified mentors and partners who provide effective strategies and practical support for their further development.
"Five projects are selected annually to join the one-year program. Throughout the year they benefit from tailor-made mentorships to address specific needs. The WISE Accelerator assists the selected projects to connect with an international network, and create opportunities to share knowledge and find support among potential donors and investors."
Applicants for the Wise Accelerator must pass a multi-layer screening process that includes checking that they have been in business for at least two years, have a significant and growing number of customers, and stable revenues with new opportunities for growth. Importantly, successful applicants must demonstrate a "deep knowledge of the market or educational context and of their beneficiaries' or customers' needs."
This small, family owned and operated company does all of its development and support in the United States. The patented process ensures optimum learning in an online setting, focusing more on the concepts than on the facts, procedures, and vocabulary of science.
Ed Keller, CEO, said, "We built a system whose core features real experiments and hands-on measurement so that students are engaged and own their own data. I meet teachers all over the country who are immediately impressed by what they see. We match their expectations for a great online science learning system."
According to Dr. Harry Keller, president and chief science officer, Smart Science® lessons won a slot because "they were designed and built by scientists instead of computer programmers and marketers. All of our software was created internally by professional software engineers with decades of high-level experience."
Smart Science Education Inc. has been designing and building its lessons for well over a decade and now has about 300 lessons available for grade 3 through college. More than a million lessons have been done by students around the country and around the world. They conform to the NGSS and state science standards. Significant customers include the New York City Department of Education, k12.com, Springfield (MO) Public Schools, and Dallas ISD.
Jayne Keller, CTO and treasurer said, "Unlike many startups, we have built our company without any external financing or loans. We had some tough times, but we believed in our vision and mission and persevered. The big breakthrough for us came from Google. Using their toolkit, we were able to build a system that runs from the Internet on virtually any device. We also use their virtual servers and have built-in Google Translate so that our HTML5 system can be used in nearly 100 languages."
In addition to the three Keller family members mentioned (father Harry, mother Jayne, and son Edward), daughter, Caroline, is an MIT graduate and IP attorney who was key in obtaining the company's patent and trademark. She continues to consult with the company as necessary on legal matters.
Dr. Keller further remarked, "We were a bit early to a market that clearly was not ready for so many groundbreaking advances in educational technology. Today, this award proves that the market has caught up to us. Now that we have broken through the critical seven-figure revenue ceiling, the sky's the limit. We have a mission to deliver great science education at low, affordable prices around to the world so that everyone can benefit from understanding science and having their own version of Carl Sagan's "baloney detection kit."
Ed Keller also added, "Our pedagogy matches the well-regarded 5E approach to learning. We don't just have real experiments and hands-on measurement. We embed these in a full learning scaffold based on proven pedagogy."
For more information on Smart Science Education Inc., see http://www.smartscience.net.
For more information on the WISE Accelerator, see https://www.wise-qatar.org/wise-accelerator.