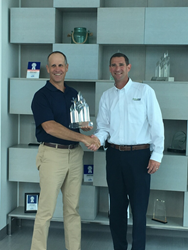 We're thrilled for our future together as we continue to grow and expand our service territory
LANHAM, Md. (PRWEB) July 12, 2018
Thompson Creek Window Company has been recognized as one of ProVia's 2016 Platinum Elite Dealers, a status reserved for a select number of outstanding dealers who excel in service, installation, knowledge and promotion of ProVia's door products. This is Thompson Creek's 12th consecutive Platinum Dealer Award, with the past three awards being Platinum Elite.
Rick Wuest, CEO of Thompson Creek Window Company, said, "It's an honor to win this award for 12 years in a row. Our team is extremely grateful for our strong partnership, teamwork and dedication to providing the best doors in the industry between our two organizations. We're thrilled for our future together as we continue to grow and expand our service territory."
The Platinum Elite Dealer Award was introduced in 2016 and Thompson Creek is among the top tier of ProVia dealers nationally to have earned the award three years in a row. "Once again, Thompson Creek has proven to represent ProVia's products extremely well in the market place and excel at what they do best which is to serve homeowners in excellence," said Brian Miller, President and CEO of ProVia.
For more information about Thompson Creek Window Company's strongest and most energy-efficient doors in the industry, please visit http://www.thompsoncreek.com/doors.
About Thompson Creek Window Company
Thompson Creek Window Company is a privately owned, family operated manufacturer and installer of energy-efficient home improvement replacement products. Founded in 1980, the Company has evolved into one of the leading specialty home improvement manufacturing and contracting companies in the nation. We provide top-quality replacement windows and doors, vinyl siding, roofing and a clog-free gutter system. Thompson Creek Window Company is headquartered in Lanham, MD, and manufacturers our products in Upper Marlboro, MD, employing more than 400 people in Washington D.C., Maryland and Virginia. The Company's new storefront in Richmond, VA, is scheduled to open in July 2018.
About ProVia®
Headquartered in Sugarcreek, Ohio, ProVia is a leading manufacturer of professional-class entry doors, storm doors, patio doors, windows, vinyl siding and manufactured stone. The professional-class designation reflects the company's high level of quality, service and customization. ProVia has been an ENERGY STAR® Partner with the Environmental Protection Agency and the U.S. Department of Energy since 2002, and has won the prestigious ENERGY STAR Partner of the Year award for Door Manufacturing four times, and the ENERGY STAR Sustained Excellence award four times. The company employs approximately 500 people at its headquarters and manufacturing facilities in Sugarcreek, Walnut Creek, Baltic and Zanesville, Ohio, and Booneville, MS.