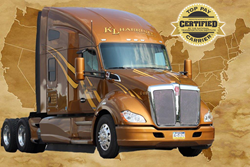 For us, it's all about our drivers. We don't believe in gimmicks. We don't believe in putting carrots on sticks. We've developed an elite pay package because our drivers are elite. -- Founder Keith Harring
BETHEL, Pa. (PRWEB) July 12, 2018
K.L. Harring Transportation, LLC., a leader in team truckload service which specializes in dedicated time-sensitive cargo, announced a mileage pay raise and enhancements to the company's overall compensation package that, according to the National Transportation Institute, will place the members of the K.L. Harring fleet among the highest paid professional truck drivers in the United States.
Effective on July 1st, the base pay rate for K.L. Harring team drivers increased to 70 cents per mile. Team drivers will also be eligible for pay incentives related to fuel savings and safe operation, each paid on a quarterly basis, which can add up to four cents per mile to the base rate. In addition to the adjustments in the mileage rate, K.L. Harring has increased the company's weekly guaranteed minimum pay to $1,600 per driver for each week out on the road, regardless of the number of miles driven.
"We have always believed that our drivers are the most important part of our company, and we have always tried to be proactive with our pay. We want to reward our drivers for their continued great work, and we want to have a highly competitive compensation program in place that will allow us to continue to welcome experienced team drivers into what we feel is one of the nation's most elite fleets," said Company President Keith Harring, who launched his fleet as an owner-operator in 1978. Mr. Harring has never lost the perspective he gained from his driver's seat while leading the growth of the carrier to become a highly-respected team operation. "Our company is driver-built and team-driven. We have a growing company, and we make every effort to build lasting relationships with our drivers."
The family atmosphere within K.L. Harring Transportation is reflected by the comprehensive driver-friendly environment created within the company. Team drivers are running dedicated, no-touch freight on planned runs with consistent miles and regular home time. K.L. Harring drivers receive generous paid vacations and holidays, and even birthdays are among the paid holidays recognized by the company. K.L. Harring holds one of the strongest driver retention rates among its competitors, and the carrier is quite diverse, with women representing 40 percent of its overall driving community.
"We have a great deal of respect for Keith and the approach he has taken in building his company – from being an owner-operator driving his one truck 40 years ago to where K.L. Harring Transportation is today," said Leah Shaver, Chief Operating Officer of the National Transportation Institute, who oversees NTI's Top Paid Carrier Certification. This recognition by NTI has become one of the most coveted designations for truck fleets throughout the industry. "We evaluated the pay package at K.L. Harring Transportation before it was finalized, and we found it to be one of the best pay packages in the entire country for teams. Though KLH was found to pay above market-level in our pay analysis, Mr. Harring chose to further elevate base pay rates and the weekly minimum guarantee, while also seeking areas to decrease expenses for KLH dedicated team drivers. Along with Certified Top Pay, K.L. Harring offers an attractive health benefit plan and company contributions to retirement. It's also important to note that K.L. Harring provides flexible, frequent home time to ensure that team drivers serving on dedicated lanes can experience the work-life balance desired in today's highly competitive professional driver market."
"We're incredibly honored that the National Transportation Institute has endorsed us as a Certified Top Pay Carrier in 2018. This kind of recognition within the trucking industry is very meaningful to our entire company because it speaks to the commitment and dedication we have to our drivers," expressed Mr. Harring. "We believe in the best for our drivers, and this certification confirms that a nationally recognized authority has looked at every detail of our driver offerings and said, 'You're one of the best!'"
In addition to the industry-leading offerings of team mileage pay and guaranteed minimum weekly pay of $1,600 per week per driver, K.L. Harring Transportation provides four comprehensive health benefit package options, weekly driver settlements, paid vacation, paid holidays and birthdays, referral bonuses, retirement contributions by the company and even an improved per diem program. With the changes resulting from the implementation of 2017 tax law that eliminated the daily per diem deduction for company drivers, Harring has made increases to its per diem plus mileage program that will help to offset the loss of the per diem tax deduction. The K.L. Harring Transportation per diem plus mileage program is offered with no administrative costs to drivers, and it is an optional program.
"We've had a per diem mileage program for years. It's always been optional, and we have never charged any administrative fees to our drivers in the program – even though there is a cost to the company. We are glad to cover that cost and we were happy to take another look at our per diem program, especially after the tax law changed," said Mr. Harring. "I never want our drivers to be on the wrong side of a tax situation. For us, it's all about our drivers. What I tell my drivers is to look at this way: You'll never make less than $1,600 per week. We don't believe in gimmicks. We don't believe in putting carrots on sticks. We've developed an elite pay package because our drivers are elite, and they deserve the best."
To learn more about the opportunities for experienced team drivers that are available at K.L. Harring Transportation, LLC., visit the company's website, https://klharring.com/.
ABOUT K.L. HARRING TRANSPORTATION, LLC.:
Founded by driver Keith Harring in 1978, K.L. Harring Transportation offers company stability and is a leader in the transportation industry specializing in moving time- and temperature-sensitive freight. K.L. Harring employs experienced hazmat-endorsed CDL A teams for OTR routes, offering team drivers some of the highest pay in the industry. In 2018, K.L. Harring Transportation was Certified as a Top Pay Carrier by the National Transportation Institute, recognizing not only the fleet's high rate per mile, but the industry-leading salary guarantee, the company's attractive health benefit program, retirement contributions and overall carrier solidity. To learn more, visit https://klharring.com/.
ABOUT THE NATIONAL TRANSPORTATION INSTITUTE:
The National Transportation Institute (NTI) was founded in 1995 with a goal of providing accurate and authoritative mission-critical benchmarks to truckload carriers on company driver and owner-operator compensation history and changes. NTI's publications are used by insurers, consultants, carriers, shippers and nearly every equity analyst who follow transportation sector stocks. NTI's largest subscriber base remains in the transportation sectors Private and For-Hire LTL and truckload fleets where they are widely used as a tool for fleet executives to understand the direction and velocity of the Class A CDL market wages and emerging pay strategies. To learn more, visit  DriverWages.com.