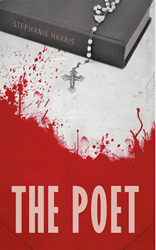 CHICAGO (PRWEB) July 16, 2018
When Rebecca Paige decides to vacation alone at an isolated resort in the woods, it is a welcome break from her position as the administrator of a psychiatric hospital. Little does she know, the poet is also visiting this peaceful hideaway, and his motivation is far more sinister in nature. "The Poet" by Stephanie Harris is a psychological thriller that does not shy away from the darkness of humanity.
On the last day of her trip, Rebecca has an unusual encounter with Jack Shelley, the man in the cabin next door. After he leaves, men with guns suddenly descend on the resort and take Rebecca and the other guests hostage.
"My goal was to create a morality tale hiding underneath an edge of your seat thriller, that doesn't pull any punches," said Harris.
"Stephanie Harris's sexy and suspenseful 'The Poet' is a genre triumph, with unrelenting action, intriguing characters, and memorable sensuality," stated a Foreword Clarion Review
Slightly twisted with a literary flair, "The Poet" is the first installment in the new and captivating "The Poet Series" that will have readers thinking about the dark and wondering if love, redemption, and forgiveness really do apply to everyone.
"The Poet"
By Stephanie Harris
ISBN: 9781524670283 (softcover); 9781524670276 (eBook)
Available at the AuthorHouse Online Bookstore, Amazon and Barnes & Noble
About the author
Stephanie Harris is the author of psychological thrillers, and she has a special affection for all things disturbing and uncomfortable. A life-long Midwesterner and a licensed professional counselor, Harris spends her free time writing, day dreaming, and pursuing atypical conversation.
###
General Inquiries:
LAVIDGE – Phoenix
Bryan Beach
480-306-6554
bbeach(at)lavidge(dot)com
Review Copies & Interview Requests:
LAVIDGE – Phoenix
Kiersten Woglom
480-998-2600 x 586
kwoglom(at)lavidge(dot)com