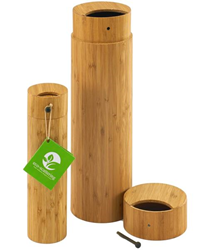 we're committed to becoming the premier eco-friendly urn supplier to the funeral industry
GREENWOOD VILLAGE, Colo. (PRWEB) July 12, 2018
The Living Urn's parent company, Biolife, LLC, is excited to announce that it has entered into an agreement to acquire Element Urn's proprietary product line of unique and eco-friendly urns, including Eco Scattering and Eco Burial.
Mike Wallace, EVP of Operations at Biolife commented, "We're in the process of aggressively building our product offering through both internal product development and strategic acquisitions and we're committed to becoming the premier eco-friendly urn supplier to the funeral industry. The two patent pending bamboo urn lines we reached an agreement to acquire, Eco Scattering and Eco Burial, were introduced over the past year and have received a ton of interest among funeral homes and families looking for unique, eco-friendly and meaningful afterlife options."
Eco Scattering is a patent pending bio scattering urn with a number of important advantages. In addition to being all-natural and handcrafted, it's made from bamboo, a sustainable resource. Eco Scattering is also the only biodegradable urn on the market that gives families the ability to safely transport cremated remains and scatter with control at multiple locations or with multiple participants without the risk of spilling. This is made possible by its proprietary open and close locking top that was developed specifically for Eco Scattering.
Eco Burial is a patent pending bio urn that provides families with a beautiful biodegradable burial urn option and can also serve as a traditional decorative urn to place in a home. It is popular as a simple, yet dignified urn at an affordable price. Eco Burial is made from bamboo, a sustainable resource.
Wallace continued, "Not only do we love the natural and elegant look of Eco Scattering and Eco Burial, but we are also very excited about the quality and functionality. Many of the other biodegradable urns on the market are either made out of paper or cardboard and are not nearly as sturdy. Others are wood boxes having an entire side that simply opens to pour out cremated remains. Eco Scattering is the only bio urn that is strong and secure and is actually designed to scatter cremated remains.
Wallace continues, "Now with The Living Urn, our new Indoor Living Urn, and the addition of Eco Scattering and Eco Burial, we're starting to build out our product portfolio and providing more great eco-friendly cremation urn offerings to the funeral industry. We're also developing additional urns that will be introduced over the coming months and will be looking at strategic acquisitions as they become available."
About Biolife, LLC
Biolife, LLC, based in Denver, Colorado, is committed to developing unique market leading cremation urns catering to families looking for eco-friendly and meaningful afterlife options. Its growing product offering includes The Living Urn®, the leading bio urn and planting system in the U.S. designed to grow a tree with cremated remains, The Living Urn Indoors, Eco Scattering, a unique bamboo scattering urn, and Eco Burial, a unique bamboo burial urn or traditional decorative urn.