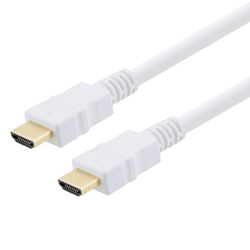 "L-com's new white HDMI cables are perfect for installations where a clean aesthetic is required. The white color offers our customers an option from standard black HDMI cables. Plus, these cables meet the HDMI industry performance specifications," said Brian Gates, Product Manager
NORTH ANDOVER, Mass. (PRWEB) July 24, 2018
L-com Global Connectivity, a preferred manufacturer of wired and wireless connectivity products, announced today that it has just released a new line of high speed HDMI cable assemblies with white cable jackets and connector overmolds.
L-com's VHA00009-series white HDMI cables support applications ranging from HDTV connectivity, home theatre, professional A/V installations to set top box connectivity. Features include support for HDMI Ethernet Channel, audio return channel, 3D over HDMI, 1080p resolution, 4K video, additional color spaces and double shielding which protects your A/V signals from EMI/RFI.
"L-com's new white HDMI cables are perfect for installations where a clean aesthetic is required. The white color offers our customers an option from standard black HDMI cables. Plus, these cables meet the HDMI industry performance specifications," said Brian Gates, Product Manager.
Available in four off-the-shelf lengths, L-com's new white HDMI cable assemblies are in stock and are available for immediate shipment.
For more information about this release, please contact:
Peter McNeil
L-com Global Connectivity
17792 Fitch
Irvine, CA
978-682-6936 x1174
About L-com Global Connectivity:
L-com Global Connectivity, a leading manufacturer of wired and wireless connectivity products, offers a wide range of solutions and unrivaled customer service for the electronics and data communications industries. The company's product portfolio includes cable assemblies, connectors, adapters, antennas, enclosures, surge protectors and more. L-com is headquartered in North Andover, Mass., is ISO 9001: 2008 certified and many of its products are UL® recognized. L-com is an Infinite Electronics company.