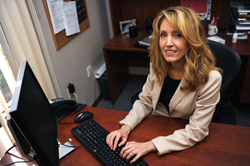 "Traditional anti-fraud measures are not capable of defeating today's cybercriminals. A multilayered approach can improve success but it's equally important to leverage the latest advances in fraud-fighting tools, because fraudsters are capitalizing on technological developments."
TAMPA, Fla. (PRWEB) July 16, 2018
A new study reveals that eCommerce merchants have been slow to adopt new fraud mitigation technologies; while 55% currently use card PIN authentication, 33% or less use other emerging tools—even though they rate artificial intelligence (AI) and other advanced solutions high for effectiveness.(1) Chargebacks911, a leading dispute mitigation and loss prevention firm, advises eCommerce retailers to leverage multiple tools and new technologies such as machine learning and big data if they hope to combat rising card-not-present (CNP) fraud and cybercriminals' evolving tactics.
Though eCommerce fraud continues to climb—soaring 30% from 2016 to 2017(2)—a new federal report indicates that merchants have not yet adopted a consistent approach to fraud prevention. Even the most widely used fraud mitigation tool—card security codes—has only been implemented by 76% of eCommerce retailers, and 7% of survey respondents use no fraud mitigation tools at all.(1) In terms of more recent fraud-fighting advances, just one-third of merchants are using emerging tools such as shipping-pattern analysis (33%), behavioral analytics (33%) or omni-channel transaction history (32%); a little more than one-quarter are using AI/machine learning (28%), multi-merchant purchase velocity checks (27%) or website navigation patterns (26%); and fewer than 1 in 5 use biometrics: only 19% use fingerprints and just 16% use voice or facial recognition.(1)
Another recent study found that 75% of merchants still rely on usernames and passwords to authenticate customer accounts, despite ongoing breaches and phishing. Just 45% use two-factor authentication (such as one-time passwords), 40% use dynamic or static security questions, 24% use geolocation and a mere 17% use device fingerprinting.(3) Meanwhile, increasing fraud costs now claim 8% of revenue, including 9.7% for digital goods merchants and 7.7% for physical goods merchants. Average fraud losses currently total $284,797 for account takeovers, $322,602 for friendly fraud and $462,355 for unauthorized transactions, which can also include chargeback fraud in cases of false claims.(3)
"Traditional anti-fraud measures are not capable of defeating today's cybercriminals," explained Monica Eaton-Cardone, co-founder and Chief Operating Officer (COO) of Chargebacks911. "A multilayered approach can improve successbut it's equally important to leverage the latest advances in fraud-fighting tools, because fraudsters are capitalizing on technological developments."
Though it may be some years before this industry realizes the full potential of biometrics-based security, merchants already have a powerful tool at their disposal: big data. Eaton-Cardone says the eCommerce retailers who use AI and machine learning to analyze their data are much more successful in identifying and thwarting fraud attempts.
Despite the slow adoption rates for emerging anti-fraud technologies, survey responses validate their usefulness and reflect growing interest. When eCommerce merchants rated the effectiveness of various tools on a scale of 1 to 10, AI systems scored highest with an average 8.2 rating. Facial and voice recognition both scored 7.9, and data-based analysis—including geolocation and purchase velocity checks—followed closely behind with a 7.8 rating.(1) These tools were also among the most frequently cited when merchants were asked which fraud mitigation methods they plan to use within the next 6 to 18 months: 16% indicated AI systems, 13% multi-merchant purchase velocity checks, 12% omni-channel transaction history, 11% shipping-pattern analysis and 10% geolocation.(1)
"Merchants can obtain a wealth of information with each transaction, from website navigation and purchase speed to device and location identifiers to shipping and transaction irregularities," noted Eaton-Cardone. "When retailers rely on outdated rules to evaluate transactions, it can result in bad orders sneaking through and good orders being declined due to false positives."
AI and machine learning are revolutionizing fraud detection by instantly analyzing multiple data points to identify anomalous transactions. Unlike biometrics—which must interface with hardware such as fingerprint scanners, cameras and microphones—AI simply requires merchants to capture, store and analyze order data. Those who know how to use it are able to get the most bang for their fraud-prevention budget.
Eaton-Cardone urges more merchants to begin using big data, whether by implementing their own AI systems or by partnering with firms that already have the tools in place, to stay ahead of fraudsters' continuously changing tactics. Data analysis is a key component of Chargebacks911's patent-pending Intelligence Source Detection technology, which goes beyond standard reason codes to identify the true source of chargebacks. By leveraging big data in combination with expert human analysis, Eaton-Cardone says her firm is helping merchants lower the overall number of chargebacks, minimize false positives and issuer declines, and achieve the highest win rates in the industry.
Chargebacks911 is committed to educating and supporting eCommerce merchants with services designed to maximize profitability, reduce chargebacks and prevent fraud. To educate industries more on new revenue risks—including fraud, Monica Eaton-Cardone and her team will be participating in a number of upcoming industry events, including Affiliate World Europe in Barcelona, Affiliate Summit East in New York City and the PaymentsEd Forum in Boston. For details on Chargebacks911's comprehensive risk management solutions, informative articles and other merchant resources, visit https://chargebacks911.com.
About Chargebacks911:
Chargebacks911, known as The Chargeback Company in Europe, safeguards over 2.4 billion online transactions every year, representing clients in 87 different countries. It is the first global company fully dedicated to mitigating chargeback risk and eliminating chargeback fraud, and the company has won the Customer Choice Award for Best Chargeback Management Solution at the CardNotPresent Awards for two years in succession. As industry-leading innovators, Chargebacks911 is credited with developing the most effective strategies for helping businesses maximize revenue and reduce loss in a variety of industries and sectors within the payments space.
Chargebacks911 provides comprehensive and highly scalable solutions for chargeback compliance, handling services and fraud strategy management. With unparalleled category experience and Intelligence Source Detection (ISD™) technology, Chargebacks911 identifies the true source of chargebacks, optimizes revenue recovery opportunities, mediates disputes, safeguards reputations, monitors transactions 24/7 and helps proactively prevent future fraud. To learn more about Chargebacks911, visit http://www.chargebacks911.com.
1. Federal Reserve Bank of Minneapolis. Fighting Fraud in the e-Commerce Channel: A Merchant Study; June 2018.
2. Krepper, Traci. "E-Commerce Fraud Attack Rates Hit New Highs in 2017"; Experian blog post; April 10, 2018.
3. Javelin Strategy & Research and Vesta. 2017 Financial Impact of Fraud Study: Exploring the Impact of Fraud in a Digital World; September 2017.