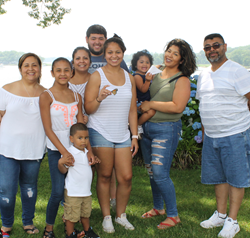 WESTCHESTER COUNTY, N.Y. (PRWEB) July 17, 2018
Hospice of Westchester (HOW), an organization which has provided exceptional end-of-life care to residents of Westchester County for more than 25 years, recently hosted its eighth annual Celebration of Life Memorial Butterfly Release. On Sunday, June 24, families, friends and community members gathered at the Wainwright House in Rye for the remembrance ceremony and butterfly release. The annual event provides HOW families the opportunity to honor the lives of loved ones who have passed away.
Prior to the ceremony, children and their families were invited to participate in activities related to the Monarch butterfly, including crafts, stories and games. Guests were also invited to walk the grounds of Wainwright House.
During the ceremony, William H. Guyre, president, board of directors, Wainwright House, and Mark Fialk, M.D., medical director, Hospice of Westchester, provided welcome remarks and Hospice staff shared readings related to loss and bereavement. Information was also shared about the journey of the Monarch butterfly, which is often viewed as a symbol of loved ones who have passed away. Lisa Sandagata, M.A., M.T.-B.C., and K.J. Denhert from the Music Conservatory of Westchester performed musical interludes throughout the program. HOW bereavement coordinators read the names of those being honored before the butterflies were released.
"We look forward to the Celebration of Life Memorial Butterfly Release every year, as it offers families of our patients the opportunity to remember their loved ones through a beautiful and peaceful tribute," said Mary K. Spengler, M.S., chief executive officer, HOW. "Our staff and volunteers, who develop deep relationships with these families during the end-of-life journey, have the chance to reconnect with those in attendance. It is a truly special day."
About Hospice of Westchester
Hospice of Westchester (HOW) is a private, not-for-profit healthcare agency that provides skilled, compassionate and comprehensive end-of-life home care to patients diagnosed with any serious or life-limiting illness and gives support to their families and loved ones. Hospice of Westchester is located at 1025 Westchester Avenue, Suite 200, White Plains, NY. For additional information, visit http://www.hospiceofwestchester.com or call (914) 682-1484. For the latest news and updates, find HOW on Facebook.