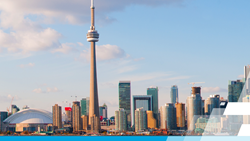 We are focused on building a future-proof commerce platform that allows companies to easily enable shopping experiences through any customer touchpoint
VANCOUVER, B.C. (PRWEB) July 17, 2018
Elastic Path, the leader in enterprise headless commerce solutions, announced today it has opened a new Canadian location in Ontario, in the Toronto area, following a recent $43 million funding round and a series of key executives and upper management new hires. With headquarters in Vancouver, the Toronto area office will house expanded research and development, as well as sales and customer success teams.
Leho Nigul, Vice President of Product Development, will be located at the new Ontario office location.
"Elastic Path is hiring aggressively to meet our product roadmap and customer success goals," said company CEO, Harry Chemko. "Our customers are the biggest companies in the world and they have high expectations of our software and our ability to deliver. They are looking for scalability and flexibility that web template-based SaaS commerce providers cannot provide. We are focused on building a future-proof commerce platform that allows companies to easily enable shopping experiences through any customer touchpoint."
The expansion reflects Elastic Path's increasing growth in the red-hot ecommerce industry. Elastic Path Commerce is one of most future-proof commerce engines on the market leveraging a next generation, API-based architecture. The company is looking for software engineers who can work with open-source tools like Apache Camel for enterprise integrations, JBoss Drools for rules evaluation, Apache SOLR for search, and ActiveMQ for messaging.
"Our goal is to provide Fortune 100 companies in all sectors with the ability to successfully make the transition from bricks and mortar to full digital enterprises, said Nigul. "In addition to adding a new R&D hub, the Markham location grows our network of customer support centers across North America and Europe, extending our ability to provide 24/7 care anywhere on the globe. "
About Elastic Path
Defining the future of commerce, Elastic Path pioneered the world's leading API-oriented commerce solution for enterprises. The company's flagship product, Elastic Path® Commerce, has helped the world's top brands generate over $60 billion in over 170 countries. Customers from industries as diverse as travel, telecoms, publishing, software, and retail enjoy the benefits of a flexible, open architecture that monetizes brand-defining customer experiences, facilitates business agility and eliminates commerce system silos. Elastic Path is a private company based in Vancouver, Canada with offices in the UK and US. For more information http://www.elasticpath.com