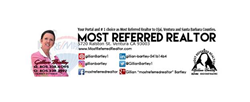 "The goal of the MRR-Link is to reduce stress for the clients while valuing their time. It ensures the move goes as planned by appointing a 'liaison assistant.'" - Gillian Bartley
VENTURA, Calif. (PRWEB) July 16, 2018
RE/MAX Gold Coast Realtor Gillian Bartley recently created the Most Referred Realtor (MRR) Link to better serve her clients. Bartley, aka the "Most Referred Realtor," realizes the importance of good referrals as 98% of her buyers and sellers are referred to her. The MRR-Link liaison concierge service is complementary to all MRR clients. This is a feature that anyone in the area can use.
"When people are seeking a service, they want someone they trust, someone proven, who comes highly recommended," said Bartley. "The goal of the MRR-Link is to reduce stress for the clients while valuing their time. It ensures the move goes as planned by appointing a 'liaison assistant.'"
Additionally, most clients can qualify for a discount if they contact Bartley. Ray Coderre of Coderre painting is one of the recommended affiliates. "With our partnership, we offer 10% off services," added Bartley. "I have used and referred Ray for many years. Besides being a great painter, he has an extraordinary interest in each job and personalizes his approach according to the client's needs. He has helped many of my clients create a new environment and encourages them to add the extra touches to make a home beautiful. To me he is more than a painter, he is my team member."
Jeni's Cleaning Services is also a trusted partner, and reliable, professional cleaning and maid services for one's home. "With our partnership, we offer 10% discount off services as a welcome discount," noted Bartley.
"I make sure that I am referring people who are worthy of my clients so I'm constantly updating it," concluded Bartley.
About Gillian Bartley, RE/MAX Gold Coast Escrow
Gillian Bartley was named to the RE/MAX Gold Coast Executive Club in 2012 and 100% Club in 2013, 2014, 2015, 2016, 2017. She is known as the "Most Referred Realtor" in her community and has helped customers buy or sell properties in Ventura since 2006. For more information, please call (805) 338-4095, or visit http://www.mostreferredrealtor.com.
For media inquiries, please call 805.650.6121, ext. 361.