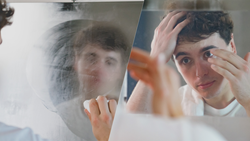 "AFC lets you remove the fog, ensuring safety and convenience."
NEWPORT BEACH, Calif. (PRWEB) July 13, 2018
AFC, the advanced anti-fog film for lenses and clear surfaces, has launched on Kickstarter, reaching 100% of their funding goal in the first 24 hours. AFC is the ultimate anti-fog film solution made with super-hydrophilic technology that can be used for all mirrors, helmets, goggles and car windshields.
"Fog can be annoying. It can block your vision when driving, and it covers your bathroom mirrors after showers. AFC lets you remove the fog, ensuring safety and convenience," states CEO Moon Hwan Kim.
Unlike traditional fog spray products, AFC implements super-hydrophilic coating, lowering the distortion rate of the field of view between water, which allows moisture to disperse quickly, as soon as droplets come in contact with the film.
This technology also reduces the contact angle between the surface and water droplets to less than five degrees, making it easier to secure a clear view through the surface. With an array of specific shapes, AFC film accommodates all individuals, from snorkelers to bikers, and comes in a customizable film that can fit any desired surface.
The AFC film features:

Super-Hydrophilic Coating: Reduces the contact angle between the surface and water droplets to less than 5° for clear vision
Anti-Fog Functions: Prevents fog formation and bacteria growth caused by humidity and temperature differences
Self-Cleaning Capabilities: Contact with water droplets washes dirt and dust off the surface
Pre-order of AFC is now available on Kickstarter for a limited time. Individuals can now sign up to receive exclusive updates on http://kck.st/2KLYlyv. Any influencers or journalists interested in receiving a unit and reviewing AFC are encouraged to send in a contact inquiry through the company website: http://afc-film.com.
During the campaign, AFC products can be purchased for $49 USD as the Early Bird price and $59 USD as the Regular price. When the campaign funding goal is achieved, the company anticipates manufacturing and delivery to be complete in November of 2018.
About ITS Group, Inc.
ITS Group, Inc. is a California-based company that aims to employ extensive measures of technology and engineering to develop advanced lifestyle products. The products are designed and developed in Newport Beach, California and are manufactured in Seoul, Korea.