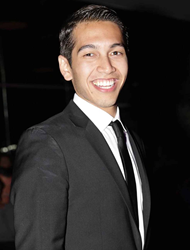 "I want to do something that my country and my people are proud of, and something the world can watch as well, and hopefully we can mix those two." - NYFA Alum & Filmmaker Maan Bin Abdulrahman
NEW YORK (PRWEB) July 17, 2018
Since the reopening of cinemas in Saudi Arabia this April, what CNN calls "Saudi cinema's new dawn" has been spearheaded by many alumni, students, and collaborators of the New York Film Academy (NYFA).
NYFA has trained many rising Saudi filmmakers, producers, cinematographers, and actors whose work featured at the Saudi Corner at Cannes, and recently partnered with Dar Al-Hekma University in Jeddah for a five-day training, together with Law & Order director Gilbert Shilton.
At Cannes, five of the nine films presented by Saudi Arabia featured the work of NYFA students and alumni, including brothers and fellow BFA Filmmaking graduates Maan Bin Abdulrahman and Talha Bin Abdulrahman.
Before debuting at Cannes, the brothers collaborated together on Talha's NYFA thesis film, The Scapegoat, which screened at the 14th Dubai International Film Festival as well as the second annual Young Saudi Film Festival, Irvine International Film Festival, Orlando Film Festival, San Antonio Film Festival, and Chandler Film Festival. Working through their production company Prince of Arabia Entertainment, the brothers also co-directed their Cannes offering, Film School Musical. The musical short won the Best Shorts Competition at the Hollywood Comedy Shorts Film Festival as well as the Jury Prize for Best Musical and Best Cinematography, garnering numerous nominations from festivals along the way.
"I want to do something that my country and my people are proud of, and something the world can watch as well," Maan Bin Abdulrahman told CNN from Cannes. "And hopefully we can mix those two."
Saudi reopened its cinemas in April of 2018, followed closely by The Saudi Short Corner at Cannes. Both represented significant milestones in the Kingdom's expansion of cinema under Crown Prince Mohammad bin Salman's Vision 2030 program, which lifted a decades-long ban on film.
"We're glad that this mentality is changing," Talha Bin Abdulrahman told CNN. "And it's changing obviously because the government is changing."
In June, NYFA Los Angeles announced a contest celebrating the opening of Saudi cinemas, encouraging Saudi artists to submit a short video to win a full-tuition scholarship to a four-week program of their choice.
"The New York Film Academy Los Angeles has been the hub for training many Saudi visual and performing artists," explains NYFA Vice President, Middle East & North Africa, Tami Alexander. "We had one male and one female winner who each showed great potential. We look forward to welcoming them on campus, and seeing them bring their knowledge back to the Kingdom."
CNN also spotted the work of Saudi Arabia's first female film director Haifaa Al-Mansour, whose groundbreaking feature film Wadjda was the Kingdom's first submission for the Academy Awards -- and featured NYFA alum Ahd Kamel.
Kamel, who recently starred in Netflix's Collateral, was recently named by Vogue Arabia as "the breakout star for the times." Kamel told Vogue, "I feel very blessed to do what I love."
NYFA has also hosted the annual Young Saudi Film Festival (YSFF) at its Los Angeles campus, providing aspiring Saudi filmmakers a space to screen their work. In 2018 the festival received over 80 submissions and was hosted by alum Maan bin Abdulrahman.
Saudi Arabia's General Authority for Culture also recently visited the campus as a part of Saudi Cultural Days, where student Rakan Anneghaimshi and alum Maan Bin Abdulrahman hosted a Q&A event featuring Hollywood producer Ted Field (Jumanji, The Chronicles of Riddick). In addition to the Q&A, NYFA screened some of the short films later featured at Cannes for distinguished guests from the Kingdom including Khaled Al Saqer, Meshal AlSaleh, and Abdulaziz AlMutairi.
"We are overwhelmed with pride by the success of our Saudi graduates," says NYFA President Michael Young. "These young filmmakers have done extraordinary work, they are truly pioneers of cinema in their country."
About New York Film Academy
The New York Film Academy (NYFA) is a leading visual and performing arts school that offers courses across 15 areas of study in New York City, Los Angeles, South Beach/Miami, Gold Coast (Australia), Florence (Italy), and more. Thousands of aspiring artists come to study at the New York Film Academy each year from over 120 countries. For more information, please visit nyfa.edu.