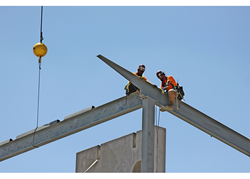 It took us 40 years to get to the point of building a new recreation center.
AURORA, Colo. (PRWEB) July 13, 2018
Representing a major milestone in construction, Adolfson & Peterson Construction (AP) celebrated the topping out with City of Aurora and the community on the progress of constructing their new recreation center.
Funded through marijuana tax revenue, this new recreation center will be a major addition to the parks and recreation amenities for Aurora residents with a grand opening in 2019.
Under construction on the 20-acre site is a new two-story, 60,285 SF recreation center. Designed by Populous, the facility features an aquatics area, gymnasium, elevated walking/jogging track, fitness area, teaching kitchen, party rooms, multi-purpose rooms, group exercise rooms, offices and locker rooms. Unique design features include an interactive video water slide, a wave pool, which is the first-of-its-kind in a Colorado recreation center, and a fitness grandstand that is full of possibility for group fitness classes and individual exercise. The new Central Recreation Center was designed to take full advantage of the western views of the Rocky Mountains and intentionally frames the mountains from the cardio and group fitness areas.
"It took us 40 years to get to the point of building a new recreation center", said Tom Barrett, Department Director for City of Aurora's Parks, Recreation & Open Space. "It's exciting for us as a city."
Attendees signed their name to the steel beam before it was lifted and placed at the top of the structure, representing the many people involved in making the project a success.
About AP
Adolfson & Peterson Construction (AP) is a U.S.-based, privately held builder that is consistently ranked among the top 50 construction managers and general contractors in the nation. Headquartered in Minneapolis, Minnesota, the company delivers innovative and collaborative building solutions for clients across the country from its regional offices in Dallas, Denver, Minneapolis and Phoenix. Founded in 1946, AP serves clients in the education, healthcare, commercial, municipal, multifamily, hospitality and senior living market sectors. For more information, visit http://www.a-p.com or follow us on Facebook, LinkedIn and Twitter.
About Populous
Populous is a global architecture and design firm that designs the places where people love to be together, like Yankee Stadium, the London Olympics, and the Super Bowl. Over the last 35 years, the firm has designed more than 2,500 projects worth $40 billion across emerging and established markets. Populous' comprehensive services include architecture, interior design, event planning and overlay, branded environments, wayfinding and graphics, planning and urban design, landscape architecture, aviation and transport design, hotels and hospitality, and sustainable design consulting. Populous has 14 offices on four continents with regional centers in Kansas City, London and Brisbane.
For more information visit http://www.populous.com or follow @Populous on Twitter.