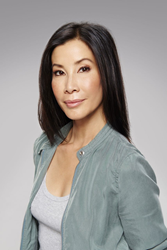 "Lisa's insights bring a unique and powerful perspective to what it means to be a travel professional in this day and age. With world events and global politics influencing the way people travel, it's critical that travel agents everywhere understand the power of their role..." CCRA's Dic Marxen
FORT WORTH, Texas (PRWEB) July 16, 2018
CCRA announced today the addition of Lisa Ling,  American journalist, television presenter, and author as a keynote speaker at PowerSolutions National on February 8th, 2019.
Lisa Ling is currently the executive producer and host of CNN's "This Is Life with Lisa Ling".
For five seasons prior, Ling executive produced and hosted "Our America" on OWN: the Oprah Winfrey Network. Lisa embedded in a Midwest town ravaged by an onslaught of heroin, got exclusive access inside an anti-gay religious movement, witnessed the manifestation of PTSD in returning veterans of war, and went undercover to investigate the under-age sex trafficking of minors in the nation's capitol. She has also profiled Americans living beneath the poverty line for the first time and people serving unimaginably lengthy prison sentences for crimes they did not commit.
As the former field correspondent for "The Oprah Winfrey Show" and contributor to ABC News' Nightline and National Geographic's Explorer, Lisa Ling has reported from dozens of countries, covering stories about gang rape in the Congo, bride burning in India, the Lord's Resistance Army in Uganda, and the Mara Salvatrucha (MS-13) gang in Central America, among other issues that are too often ignored.
Lisa got her start in journalism as a correspondent for Channel One News where she covered the civil war in Afghanistan at 21 years of age as well as stories in dozens of countries around the world. She later went on to become a co-host of ABC Daytime's hit show "The View", which won its first daytime Emmy during her time at the show.
Ling will deliver an insightful keynote during the Friday General Session based on her experiences as a global journalist and world traveler.
Dic Marxen, CCRA's CEO commented "Lisa's global insights, incredible experiences, and trusted voice bring a unique and powerful perspective to what it means to be a travel professional in this day and age. With world events, global politics, and so many other moving pieces influencing the way people travel, it's critical that travel agents everywhere understand the power of their role and how that role is evolving. We can't wait to welcome Lisa to PowerSolutions National."
Lisa joins the ranks of Kevin Harrington, one of the original Sharks on Shark Tank as well as:

Steve Martorano, Celebrity Chef and Motivational Speaker
Paul Wiseman, Former President of Trafalgar and Brendan Vacations and Current President of Partner Learning Solutions
Vernice Armour aka "FlyGirl", the first African-American Female Fighter Pilot
NCAA Basketball Coach and Inspirational Speaker Murray Garvin
Travel Influencer and Journalist Kelly Blanco of NBC6 South Florida
New York Times Best Selling Author and Branding Guru Jared Shapiro
Famed Corporate Entertainer and Mentalist Denny Corby
Travvy Award-Winner and Travel Industry Powerhouse Tammy Levent
John Schaeffer, Chief Information Officer at Nissan North America
Travel Industry Legal Expert and Attorney Mark Pestronk
... and many more to be announced!
The registration fee is $149 for accredited travel agency owners and participation options for supplier partners are still available.
Registration is now open at https://www.powersolutionsnational.com.
About CCRA:
Based in Ft. Worth, Texas, CCRA Travel Commerce Network is a global hub for travel technology, marketing, accreditation and education. For over forty years, CCRA has connected travel professionals and suppliers with the products and services they need to drive revenue, relationships and brand recognition in the travel marketplace. From the TRUE accreditation and coding system to hotels, air, call center services and more, CCRA is truly where the travel industry connects. For more information, visit http://www.ccra.com.