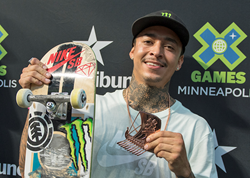 MINNEAPOLIS (PRWEB) July 13, 2018
The countdown is live! Monster Energy's team of world-class athletes is ready to compete at X Games Minneapolis 2018 in less than a week from today. The world's premier action sports event – supported by Monster Energy as the official drink sponsor for the fifth consecutive year – will stoke spectators and international audiences from July 19-22 at U.S. Bank Stadium in downtown Minneapolis.
Now in its second consecutive year in the Twin Cities, X Games Minneapolis will see more than 200 elite athletes from across the globe competing in Skate, BMX, Moto X and Flat Track racing disciplines.
Adding to a rocking weekend, X Fest will host a variety of entertainment, music and activities in the Medtronic Plaza at U.S. Bank Stadium, supplemented by installations from local artists and a skateboard history exhibit by the Skateboarding Hall of Fame. Also at X Fest, Monster Energy will feature athlete autograph signings, brand ambassadors, sampling and an outdoor lounge. Fans also have a chance to meet Monster Energy personalities and FB Live commentators like Luke 'The Dingo' Trembath and Blake 'Bilko' Williams.
In order to keep the level of riding elite, X Games Minneapolis 2018 is once again an invite-only event reserved for multiple-time X Games medalists and upcoming pros. Visit monsterenergy.com for a full list of invitees and don't miss the following key athletes and events:
In Skateboard Street all eyes will be on Nyjah Huston, reigning Street League Skateboarding Super Crown Champion and 13-time X Games medalist. Having made his X Games debut in 2006 at age 11 – the youngest athlete in X Games history at the time – Nyjah is hungry for the win after settling for bronze in Minneapolis last year. His teammate and bona-fide Thrasher Magazine Skater of the Year Ishod Wair is also no stranger to podium spots and always a force to be reckoned with after taking bronze in 2016.
Monster Energy is also charging into Skateboard Park with a stacked team and a brand-new addition: All-terrain talent and Thrasher Magazine Skater of the Year Grant Taylor joins the roster and already took X Games Park silver in 2014. Fresh off a win at the Vans Park Series Pro Tour Event in São Paulo, Brazil, Tom Schaar heads to Minneapolis as a clear favorite: A seven-time X Games medalist, Schaar has been competing at X Games since 2012 and evolved from child prodigy to one of park riding's leading innovators over the past years.
Speaking of prodigy, 17-year-old rookie Trey Wood is on a tear right now after winning this year's Tampa Pro bowl event and earning his sixth X Games appearance with a second place finish at the X Games Skate Park Qualifiers in Boise. And don't count out NorCal ripper Raven Tershy from Santa Cruz as a proven X Games gold medalist and podium threat.
When it's time for the Women's Skateboard Park competition, Lizzie Armanto returns in full force after closely missing the podium in Minneapolis last year and claiming silver in 2016.
Over in Skateboard Vert, team rider Sam Beckett is looking to continue his X Games legacy: At X Games Austin 2016, Beckett earned his first gold and fifth career X Games medal and also made history as the first UK-skateboarder to win X Games gold.
On the subject of making history, last year's Skateboard Big Air saw Tom Schaar emerge as the first competitor ever to win medals in Big Air and Skateboard Park. He will be back to up the ante this year, joined by six-time X Games gold medalist and Big Air trailblazer Jake Brown. His teammate Trey Wood has been entering Big Air competitions since age 11 but has yet to medal – will that change in Minneapolis?
Let's get into BMX: In the BMX Vert contest, the winningest BMXer in X Games history, Jamie Bestwick, has a score to settle after missing gold last year by fractions of a point. With 14 gold medals, 3 silver and 1 bronze under his belt, the inventor of moves such as the alley-oop tailwhip 540 is the man to watch. In BMX Big Air Nitro Circus star James Foster will be defending last year's gold medal win against a heavy field.
Proving his all-round skills once again, six-time X Games gold medalist Kyle Baldock from Australia will be going for gold as a triple threat in BMX Park, BMX Dirt, and Dave Mirra's BMX Park Best Trick where he took gold last year. In the BMX Street event, award-winning innovator Dakota Roche is looking for his fourth medal.
The BMX Dirt competition is bound to get heated as two-time silver medalist Ben Wallace wants to take home his first gold – but not if last year's winner and Monster rider Colton Walker has the last word. And never underestimate the crossover skills of one James Foster, who claimed Dirt bronze in 2016 and Big Air gold last year, or the young talent of Alex Nikulin and Mike Varga. Rounding out the high-octane BMX schedule, the man to beat in BMX Park is last year's winner Kevin Peraza, who will be facing heat from Kyle Baldock and Colton Walker.
This year's motocross events are also bound to stoke the crowd, with Josh Sheehan competing in both Moto X Freestyle and Moto X Best Trick. Known for his all-round talent and deep bag of tricks – including one of the best double backflips on the pro circuit – the six-time X Games medalist has won every major event in the sport and is far from finished.
Also competing in both events, fellow Australian stunt pilot Jackson Strong – three-time X Games gold medalist and first to land a front flip at X Games – is back after last year's Best Trick Silver. The two will be joined in both Moto X Freestyle and Moto X Best Trick by FMX innovator Taka Higashino in his 11th X Games appearance and Harry Bink who has yet to medal at X Games, but landed the world's first rock solid front flip in 2017.
Moto X Best Whip is once again the pinnacle of style and maximum air time with last year's silver medalist Jarryd McNeil gunning for a podium spot next to Best Whip trailblazer Axell Hodges. McNeil will also be defending his gold medal in Moto X Step Up: Will we be seeing a rematch with teammate Bryce Hudson after last year's close battle for the top spot? Also look forward to Moto X Quarterpipe High Air, where Monster Energy's Josh Hill is aiming to make his mark.
For no-holds-barred racing action, the Harley Davidson Hooligan Racing event rewards the fastest riders on race-modified Harley-Davidson street motorcycles. Look out for Monster's Ricky Rinauro, Buddy Suttle, and Nick Leonetti in this rough-and-tumble race for first place.
Closing out a rocking weekend in the Twin Cities on Sunday night, the Flat Track racing event will feature Jared Mees, who took gold in 2016 and silver in 2017, next to last year's bronze medalist Brad "The Bullet" Baker competing in a field of 25 of the world's fastest professional flat track racers.
Download photos for editorial use.
ESPN and ABC will televise a combined 19 hours of live X Games Minneapolis 2018 coverage, reaching more than 500 million homes and viewers in 192 countries and territories. X Games Minneapolis coverage will also be accessible via the ESPN App to viewers who receive their video subscription from an affiliated provider.
Don't miss out on the action in the Twin Cities. Score all the exclusive updates from X Games Minneapolis 2018 including photos and contest results as they happen visit http://www.monsterenergy.com. Follow Monster Energy on YouTube, Facebook, Instagram & Twitter, and watch the official Monster Energy hashtag #unleashedatx on social media.
About Monster Energy
Based in Corona, California, Monster Energy is the leading marketer and distributor of energy drinks and alternative beverages. Refusing to acknowledge the traditional, Monster Energy supports the scene and sport. Whether motocross, off-road, NASCAR, MMA, BMX, surf, snowboard, ski, skateboard, or the rock and roll lifestyle, Monster Energy is a brand that believes in authenticity and the core of what its sports, athletes and musicians represent. More than a drink, it's the way of life lived by athletes, sports, bands, believers and fans. See more about Monster Energy including all of its drinks at http://www.monsterenergy.com.