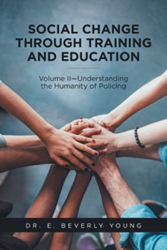 HARRISBURG, Pa. (PRWEB) July 13, 2018
Dr. E. Beverly Young believes that there is a need to communicate an important message to members of all communities, in particular those members relating accounts of negative interaction with the police. She wanted to put a face, reveal the heart and personality of the person performing police tasks and that for the police officer the resident is more than a response to a call. These objectives prompted her to write "Social Change Through Training and Education: Volume II—Understanding the Humanity of Policing" (published by AuthorHouse in March 2017). For more details about the book, please visit https://www.barnesandnoble.com/w/social-change-through-training-and-education-dr-e-beverly-young/1125887250.
Set for a new marketing campaign, the book is about the people who police; it is about the people police serve. It is about giving the profession a face, a heart and a personality, focusing on the person as more than a member of a profession and the resident as more than a response to a call. In it, Young presents discussion on this important topic through media named Training Tips, preceded by theoretical exploration identifying the link melding theory with practice, discussion about policing and communication. A review ends the discussion while suggested follow-up reading concludes the book. Introspection interludes will also help readers to identify strengths they bring to previous discussion, in addition to identifying barriers to understanding and bidirectional communication, barriers to effective policing as a member of the policing partnership.
The book was written for several audiences, police, law enforcement and civilians without police or law enforcement affiliation or background who may have had encounters with police. Parts of this text are suitable as a handout for in-service training at the discretion of the instructor.
"A police officer is a person before he/she performs tasks associated with a profession," Young stresses. "Policing is a responsibility everyone shares."
"Social Change Through Training and Education: Volume II—Understanding the Humanity of Policing"
By Dr. E. Beverly Young
Softcover | 6 x 9in | 70 pages | ISBN 9781524672850
E-Book | 70 pages | ISBN 9781524672843
Available at Amazon and Barnes & Noble
About the Author
Dr. E. Beverly Young specializes in course content review, curriculum development that align with current practices in policing for police, law enforcement and instructor development. Her career milestones providing this strong foundation include numerous years of service as a municipal police officer and commander (Pennsylvania Act 120 certified), previously certified as a police instructor for general subjects. Prior to retirement, Young served as administrative officer for the Municipal Police Officers' Education and Training Commission, overseeing compliance with regulatory standards for training and eligibility for police, academy and instructor certification. She is adjunct faculty for Eastern University; has mentored, and held advisory board membership. She is the author of two books, "Social Change through Training and Education-Human Relations Tips for Effective 21st Century Policing" and "Self within Society."