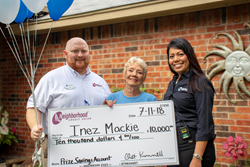 If it goes into your savings account before you get your hands on it, you won't spend it. Before you know it, you've accumulated a nice little emergency cushion.
ARLINGTON, Texas (PRWEB) July 16, 2018
Being a consistent saver can bring unexpected rewards, one Arlington woman learned.
Inez Mackie was tending to her garden Wednesday morning as Neighborhood Credit Union leadership approached her with an oversized check for $10,000. The actual $10,000 prize was deposited directly into her Prize Savings Account at the credit union.
"You have got to be kidding me," she said. "That's going to go a long way on a road trip budget."
Mackie has been a member of the credit union for eight years where she has accounts for herself as well as savings accounts for her three great-grandchildren. She said she knew of the annual grand prize the credit union gives away but was shocked and surprised that she was a $10,000 winner.
"This is our way of showing our appreciation to Ms. Mackie for being a fantastic member," said Francis Santana, vice president of community relations. "She is obviously a dedicated saver and we really appreciate it."
Dallas-based Neighborhood Credit Union established the Prize Savings Account 10 years ago to encourage people to save more money at a time when the personal savings rate had dropped to one of the lowest levels in U.S. history. But by being a consistent saver, Mackie believes that it's very important to save every month for both regular use and emergencies.
"You just have to do it [save] first," Mackie said. "If it goes into your savings account before you get your hands on it, you won't spend it. Before you know it, you've accumulated a nice little emergency cushion."
When asked what she was going to do with her winnings, Mackie explained that she was going to use it to help fund a family trip back to her home state of Florida next summer.
See the Video of the surprise delivery: https://www.youtube.com/watch?v=kb8epN9FTs4
How the Prize Savings Account works: Neighborhood Credit Union members receive one drawing entry for every $25 monthly average balance in their Prize Savings Accounts. The greater the savings, the greater the chance a member has of winning. Members are eligible for monthly drawings up to $5,000 and quarterly $10,000 drawings. At the start of each year, a winner is drawn for the newly-increased $49,999.99 grand prize based on the average monthly balance in the savings account at close of business December 31. The upcoming 2018 drawing marks the 10th Anniversary Grand Prize Savings drawing for Neighborhood Credit Union.
About Neighborhood Credit Union: The oldest credit union in Dallas (chartered April 18, 1930), Neighborhood Credit Union is a not-for-profit financial organization serving Dallas, Denton and Ellis counties, as well as the City of Arlington. With branches in Dallas, Richardson, Arlington, Mesquite, Duncanville, Waxahachie, Lancaster, Grand Prairie, Coppell, and Highland Village, and assets topping $600 million, Neighborhood Credit Union has a membership of 49,000 and continues to welcome new members daily. For more information, call (214) 748-9393 or visit http://www.myncu.com.