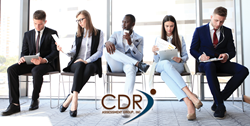 Are your interview questions the same for each candidate? They shouldn't be.
SUGAR LAND, Texas (PRWEB) July 17, 2018
CDR Assessment Group, Inc. leads the way, once again, with innovative tools for identifying and developing talent. CDR announces their latest new assessment tool, the CDR 3-D Suite Interview Reports. These savvy new interview reports provide specific questions developed based on one's individual results on the Character, Risk and Drivers & Rewards Assessments.
Nancy Parsons president of CDR Assessment Group, Inc., asks, "Are your interview questions the same for each candidate?" She explains, "They shouldn't be. Obviously, there are some standard questions for all candidates. Beyond that, it is crucial to differentiate essential candidate strengths, risks and motivational facets. With these new CDR Interview Reports, no longer will hiring managers or executive coaches be fooled or miss the mark during key interviews."
"CDR Assessments get past insights that can be observed or picked up by normal interactions, including the dark sides of personality, and now with the CDR Interview Reports, interviewers can reveal how behaviors will actually manifest once the honeymoon is over. In other words, interviewers will be able to see how the person will really show up and perform, getting past typical superficial interview rhetoric and potentially embellished resumes. When used by executive coaches, CDR's interview reports help them prepare for focused, purposeful questions to get at the core and underlying traits to accelerate development and success for their clients," says Parsons.
About CDR Assessment Group, Inc.
Since 1998, CDR has provided unmatched assessment tools and services for leadership development and talent management for global clients in all sectors. Executive coaching, Authentic Leadership Workshops, strategic team development, selection screening, succession planning, and coaches/consultants training and certification are some of our distinctive services. CDR is a WBENC certified women owned and operated corporation and has spearheaded the "Vets Coaching Vets" philanthropic initiative in Texas.
For more information on these new tools, call 918-600-5728 or email cdrinfo@cdrassmentgroup.com.