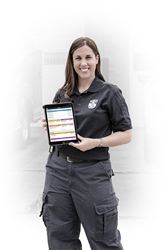 Before using Aladtec, I spent a lot of time dealing with trade requests from members. Now they take care of their own trades. It's also very easy to check the schedule from anywhere. -- Dale Dow, Deputy Chief, Fitch Rona Fire & EMS (WI)
PHOENIX (PRWEB) July 17, 2018
Aladtec, a Wisconsin-based provider of cloud-based scheduling and workforce management software, will be among 74 sponsors presenting products and services to EMS and fire professionals attending the Pinnacle event at J.W. Marriott Desert Ridge Resort, July 23-27.
As of early July, nearly 900 EMS agencies are using Aladtec to provide 24/7 staffing coverage, swiftly fill open shifts and allow members to trade shifts and request time-off. The program also includes a sophisticated form tool to speed up daily routines like rig- and med checks.
Aladtec has more than 129,000 active users among its 2,100 subscribers across the U.S and Canada. Members access the platform from any smartphone, tablet or desktop with internet connectivity.
"Before using Aladtec, I spent a lot of time dealing with trade requests from members. Now they take care of their own trades. It's also very easy to check the schedule from anywhere," said Dale Dow, deputy chief with Fitch Rona Fire & EMS, which serves the Dane County (WI) communities of Fitchburg and Verona. "We'll never go back to paper scheduling."
Account executive Joe Ellis and System Specialist Eric Hahn will offer free demonstrations of the software and answer user questions about features, such as the new capability to create and attach files within the Forms area
Aladtec, a Silver-level sponsor for the Pinnacle conference, can be seen at Booth 38. Exhibitors will be available to meet with conference attendees from 6:30-8:30 p.m., Tuesday; 10 a.m to 3 p.m., and 5-6 p.m., Wednesday; and Thursday from 7:45 a.m. to 1:30 p.m.
Pinnacle is described as a "participatory educational experience for EMS leaders. Unlike typical conferences and trade shows, Pinnacle invites sponsors and faculty to participate in roundtable discussions with attendees for true collaboration and open dialogue."
Attendees will hear St. Louis resident John O'Leary describe how a life-threatening childhood accident redirected his life. He'll talk of the insights he gained through this experience and the heroes who stepped into his life to help him through the journey. Listeners will be reminded that in emergency services, one person, one action or word can make a difference.
The conference features a variety of presentations on a range of topics, including data analysis, leadership skills, risk management, best clinical practices, HR issues and the rewards of workforce diversity.
Past attendees have included EMS chiefs, leaders, administrators, medical directors, managers, and educators from public, private and hospital-based organizations.
Aladtec representatives will offer participants guided software system demonstrations. Interested agencies can also sign up for a no-cost 14-day customized demo by visiting http://www.aladtec.com
Aladtec has a number of customers near the show venue, including Scottsdale Police Communications, Scottsdale; PHI Air Medical, Phoenix; Rio Verde Fire District, Rio Verde; University Emergency Medical Services-The University of Arizona, Sierra Vista; Air Methods - Pacific West, Phoenix; Gilbert Police Dept., Gilbert; Eloy Fire District, Eloy; Hellsgate Fire Dept., Star Valley; Arizona City Fire District, Arizona City; Verde Valley Ambulance Co., Cottonwood; and Harquahala Fire District, Tonopah.
CONTACT INFORMATION:
Aladtec, Inc.
387 Arrow Court
River Falls, WI 54022
(888) 749-5550
(801) 406-5550 Fax
steve@aladtec.com
info@aladtec.com
http://www.aladtec.com