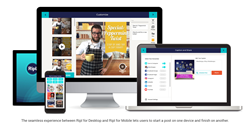 "We are doubling-down on our effort to bring 'big company' marketing power to small businesses and freelancers."
BELLEVUE, Wash. (PRWEB) July 24, 2018
Ripl Inc., a software company that helps small businesses market on social media, today unveiled a major update to its popular mobile application. Now users can create customized, dynamic, animated designs for posting on social platforms on any device through a new web application. Small businesses also have access to an expanded toolbox of social media marketing solutions to help them reach new customers and grow their incomes.
According to the U.S. Small Business Administration, the nearly 30 million small businesses in the United States employ more than half of all Americans. Small businesses are the birthplace of innovation, producing 16 percent more patents per employee compared to the technology giants. Small business owners are more reflective of American society, as they are more diverse in terms of ethnicity, race, and gender compared to the leaders of larger companies. Additionally, trends show more younger workers are starting small businesses, especially in the "gig economy," where 53 million Americans are earning income as freelancers.
"The U.S. economy truly begins on Main Street, and Ripl's first priority has always been on helping small businesses succeed," said Paul Ingalls, CEO and founder of Ripl. "The new smart features and intuitive tools in this version of Ripl are a strong signal that we are doubling-down on our efforts to bring 'big company' marketing power to small businesses and freelancers, while staying true to our roots."
Create at home, in the office, or on the go
The new Ripl simplifies and enhances social media marketing in a variety of ways, including a web version that allows users to create and share professional-looking social content from their computer as well as their mobile device. The web version can be accessed from any internet-connected device through a modern browser. The seamless compatibility between both the web and mobile versions lets users start a design on one device and finish on another, giving them the utmost freedom and control.
What, where, and when to share
The "gig economy" is re-imagining the future of work, setting unprecedented standards of mobility and flexibility. To meet the needs of this fast-moving economy, Ripl enables users to share posts across all major social media platforms with just one click. The smart technology behind Ripl turns data into actionable insights to increase the effectiveness of posts. For example, Ripl provides daily recommendations that are customized to specific business type on what and when to post.
"I love that Ripl gives me ideas every day for posts," said Gina Stango, a marketing manager and real estate agent. "I'm active in a number of things, and I use Ripl for all of them. I have a full-time job in a marketing department, I manage a triathlon club, and I am a realtor. Most days my brain is overloaded! Ripl's recommendations help me make the most of my social media marketing across each type of activity."
Additionally, a new calendar view provides an easy-to-read view of posts, as well as real-time metrics of engagements. The paid version of Ripl gives users the ability to schedule posts for a later time or date, automating the scheduling process.
Effective marketing that builds confidence
According to the U.S. Chamber of Commerce Small Business Index, small businesses that are ahead of the curve on technology adoption feel more confident about their overall business health. Ripl's innovative technology measures the effectiveness of posts and lets users can track all of their social media engagement – including shares from outside of Ripl – in one place. Ripl provides important data, insights and recommendations that can contribute to stronger growth and increased confidence in the overall health of small businesses.
Discover Ripl today
Starting today, Ripl can be accessed from any internet-connected device at http://www.ripl.com. The Ripl mobile applications can also be downloaded from the iOS App Store or Google Play. Ripl is available as a free application or as a paid subscription with Ripl Pro. The new Ripl Pro premium service gives more options to small businesses for content personalization, including adding a brand logo, access to 200+ customizable design templates, 150+ fonts, 250+ music tracks, and the ability to use personal music libraries. Ripl Pro can be purchased as a monthly or yearly subscription.
***
About Ripl:
Ripl, Inc., a privately held software technology company based in Bellevue, Washington, provides marketing software and premium subscription services to small businesses globally via its mobile and web applications. To learn more about Ripl, view tutorials, or receive support, visit http://www.ripl.com or the Ripl Facebook Page.
Media Contacts:
Bridget Benelisha, 206.701.4549, Public Relations Contact, bridget.benelisha@gmail.com
Lisa Conquergood, 206.669.7405, Chief Marketing Officer, lisa@ripl.com