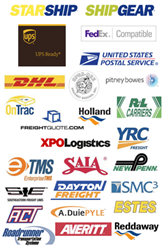 StarShip simplifies the order fulfillment process to create a tightly integrated workflow connecting eCommerce or accounting ERP software orders or shipments to the warehouse, said Caroline Rua, VP of Sales & Marketing, V-Technologies, LLC
CHESHIRE, Conn. (PRWEB) July 17, 2018
V-Technologies, LLC announces StarShip shipping software version 18.0.3 update. The 18.0.3 update supports new Shopify, WooCommerce, Volusion, BigCommerce, Magento, Etsy, Amazon and more eCommerce interfaces. This new interface allows customers to save time by eliminating the need to log into eCommerce shopping carts to re-enter shipment details. Customers view potential shipment savings with discounted USPS rates. Savings are displayed as customers ship ship via a new dashboard widget. The new interface allows for improved speed and support for Windows 10. The new Acumatica shipping software interface includes many speed improvements.
Customer's current on software maintenance and the latest version of StarShip can take advantage of the new enhancements by simply running the web update. For customers running earlier versions, full download links are available from the My Account customer portal.
About V-Technologies, LLC:
V-Technologies, LLC was founded in 1987 and provides integrated multi-carrier shipping software that connects the warehouse to the front office, giving you efficiencies in shipping, accounts receivable and customer service. We partner with dozens of parcel and LTL carriers such as USPS, UPS, FedEx, Roadrunner, Averitt, Daytona, DHL, Holland, New Penn and more as well as regional carriers like OnTrac. Our software provides integration between those carriers and popular ERP, EDI, accounting and eCommerce platforms: QuickBooks, Sage, Microsoft Dynamics GP, Acumatica, Macola, Amazon, Shopify, Magento and eBay to name a few.
Contact us today for more information: 800-462-4016 e-mail: sales(at)vtechnologies.com