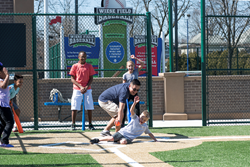 "Stick to the basics. Eat breakfast, get quality sleep, eat whole foods, train proper foundational movements, be consistent and work hard," says Alan Burr, Indianapolis Indians Strength & Conditioning Coach.
INDIANAPOLIS (PRWEB) September 28, 2018
The boys of summer may be preparing for the World Series. But parents who want to get in the game and hit a grand slam with their kids have the perfect opportunity at Wiese Field in the new 7.5-acre Riley Children's Health Sports Legends Experience at The Children's Museum of Indianapolis.
There, families learn the mechanics of baseball including pitching, batting and fielding the ball. Kids and their grown-ups have the choice to hit a pitch from a friend or family member, sports experience coach, or off the tee. If they don't want to step up to the plate, they're welcome to field the ball or root from the dugout.
Dr. Joseph O'Neil, Developmental Pediatrician at Riley Children's Health says baseball is a sport and game that can played at any age to help people stay fit and learn life lessons, "The skills used in baseball – running, throwing, and catching – are fundamental to all children as they grow and develop. Baseball encourages hand eye coordination, as well as building fitness, agility and strength. The sport of baseball promotes teamwork and can be played by people of all ages and skill levels,"
Wiese Field donated by Elizabeth Bracken Wiese and J. Frederic Wiese, Jr. is a miniature baseball diamond that is one of 12 interactive sports opportunities at the Sports Legends Experience, which is designed to promote health and fitness through sports and allows parents to be on the field with their kids.
The primary goal is to inspire visitors to be active while creating healthy habits that will stay with entire families for a lifetime. To that end, the Indianapolis Indians (Indiana minor league baseball team) have been helpful with programming and advice for preventing injuries while playing baseball. "Some of the most controllable ways to prevent injuries are to get 7-9 hours of sleep a night, have good, quality meals with lean protein, hydrate and be active for a minimum of 30 minutes a day," says Dru Scott, Indianapolis Indians athletic trainer.
Outside the park is an adorable photo opportunity with a graphic of Rowdy, the Indians mascot. There's a bat that is connected to a baseball to make it look like families are capturing the exact moment the ball makes contact with the bat and a catcher's mask behind which families can pose.
Families will also learn what it takes to be a legend on the field while learning about legends off of it including members of the Indianapolis Clowns (Hank Aaron, Marcenia Lyle "Toni" Stone and Mamie "Peanut" Johnson). Toni and Peanut were two of the first women to be hired to play professional baseball in the Negro Leagues - Hank Aaron went on to become one of the first black men to integrate Major League Baseball when he played for the Milwaukee Braves.