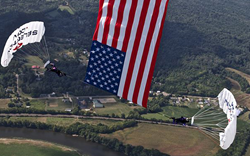 SPARTA, Ky. (PRWEB) July 14, 2018
The Quaker State 400 is a NASCAR Sprint Cup Series race held at the Kentucky Speedway in Sparta, KY. Just as fans are getting geared up for the waving of the green flag to start the race, Team Fastrax™ will skydive in with their 1,100 sq. ft. American Flag along with two jumpers with another 1,000 sq. ft. American Flag tethered between them as they race towards the ground at 60 MPH. It will be a breathtaking view from both above and below.
"We are honored to be performing at a NASCAR event so close to home.," commented John Hart, owner of Start Skydiving, and Founder of Team Fastrax™. "The Quaker State 400 is a very competitive race that local fans look forward to every year. We're happy to be part of the excitement."
According to the Kentucky Speedway website, this weekend's events will include the Alsco 300 and Buckle Up In Your Truck 225 races. Fans will also be treated to lots of autograph opportunities in the Fan Zone and entertainment on the Trackside Live Stage.
This performance of Team Fastrax™ is dedicated to Army Spc. Russell E. Madden. For information on Army Spc. Russell E. Madden, visit the Military Times website. Team Fastrax™ dedicates every performance to a local fallen hero. They may be gone, but are not forgotten.
For more information on the race, or to purchase tickets visit the Kentucky Speedway website.
ABOUT TEAM FASTRAX™
Team Fastrax™, sponsored by SELECTiON.COM®, is the most ambitious professional skydiving team in the world. The team has a roster of more than thirty-eight active members, with a collective of more than 300,000 skydives. Team Fastrax™ has performed exhibition skydives all over the world for audiences large and small as a patriotic display or as a product promotion.
ABOUT SELECTiON.COM®
SELECTiON.COM® is a nationwide provider of criminal and pre-employment background screenings, also referred to as a Consumer Reporting Agency. Headquartered in Cincinnati, OH, SELECTiON.COM® is a veteran-owned company that has been in business since 1991 and offers more than 35 background and data collection services.