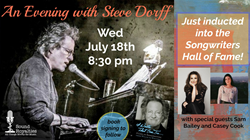 "The Andrew Marshall Dorff Memorial Fund seeks to continue Andrew's legacy and uplift a new generation of music lovers and creators," said Steve Dorff.
LOS ANGELES (PRWEB) July 16, 2018
Specialty music finance company Sound Royalties today proudly announced its support of the Andrew Marshall Dorff Memorial Fund and benefit concert, "An Evening with Steve Dorff" taking place this Wednesday, July 18 in Los Angeles. Produced by Hillary Rollins of Hillary Rollins Presents and hosted by recent Songwriter Hall of Fame inductee Steve Dorff, the event's proceeds will benefit the Andrew Marshall Dorff Memorial Fund. The fund was created in honor of Steve's late son Andrew, an acclaimed Nashville songwriter with an extensive catalogue of hits for artists like Tim McGraw, Blake Shelton, Martina McBride, and many more.
Sound Royalties is excited to participate as a key event sponsor, aiding the attendance of Belmont University students who are supported by the Memorial Fund while pursuing careers in songwriting. Established by Steve, along with Andrew's siblings, the Fund also supports Monroe Carell Jr. Children's Hospital at Vanderbilt with its pediatric oncology initiatives.
Taking place at the Catalina Jazz Club in Los Angeles at 8:30 p.m., the event will include an exclusive concert with award-winning songwriter Dorff. He and special guests, including UK singing sensation Sam Bailey, will play Dorff's greatest hits and share the stories behind the songs. Dorff will also hold a book signing after the performance for his acclaimed 2017 memoir, "I Wrote That One, Too: A Life in Songwriting From Willie to Whitney."
"The Andrew Marshall Dorff Memorial Fund seeks to continue Andrew's legacy and uplift a new generation of music lovers and creators," said Steve Dorff. "I'm excited to share my songs and the stories behind them to help young songwriting students find success in the music business. I want to thank Sound Royalties for making it possible for these students to attend the event, and I look forward to a wonderful evening raising funds for a great cause in honor of my beloved son."
Attending from Sound Royalties will be Founder and CEO Alex Heiche, Director of Music Royalty Funding Reggie Calloway and Vice President of Business Development Kevin Day.
"We are proud to support the Andrew Marshall Dorff Memorial Fund at this event, and happy to provide young music students the opportunity to attend what is sure to be an unforgettable evening with one of our generation's greatest songwriters," said Heiche. "Steve Dorff is not only an incredible musician, but also an exemplary father and philanthropist."
To purchase tickets, please visit http://www.catalinajazzclub.com or contact the venue at (323) 466-2210. Online donations can be made at https://www.cfmt.org/giving-and-investing/become-a-donor/give-to-a-fund/andrew-marshall-dorff-memorial-fund/.
About Sound Royalties
Founded by CEO Alex Heiche, Sound Royalties, LLC is a privately-owned specialty finance firm that helps music industry professionals fund personal and professional projects while allowing them to retain the rights to their music and royalties. The company's core business is offering royalty advances of anywhere from $5,000 to $10 million, while preserving all rights to the artist's music. It does this by advancing artist, producer and songwriter royalties paid through music labels, distributers, publishers and PROs, and performance royalties paid through Sound Exchange. To date, Sound Royalties, LLC has worked with a wide range of leading music industry professionals, including Grammy Award winners, platinum recording artists and notable music industry executives in every genre. Learn more at https://www.soundroyalties.com.