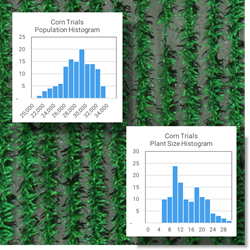 Our service now provides a fully integrated and automated solution to deliver the information they need at the time, place, and format they need it.
SAN DIEGO (PRWEB) July 16, 2018
SLANTRANGE, Inc., a leading provider of remote sensing and analytics systems for agriculture, announced today a new suite of analytics services developed specifically for the needs of test plot research. SLANTRANGE Aerial Phenotyping provides researchers and breeders with valuable new classes of agronomic information for each individual plot of a field trial, delivering new levels of insight and efficiency and accelerating results for agricultural research operations.
"High-resolution imaging and in-field analytics creates powerful new insights for farmers," says Wendy Poulsen, Director of Pipeline Innovation & Optimization of The Climate Corporation. "We are excited to be working with SLANTRANGE to unlock new value in agriculture."
The Aerial Phenotyping service is delivered through a simple 3-step process:
Planning: The SLANTRANGE team develops a data collection and delivery strategy to meet the individual objectives of the research program. The plan includes details such as field locations and sizes; crop types, metrics, and growth stages; trial and plot details; and data delivery formats and methods.
Data Collection: SLANTRANGE collects aerial survey and other data throughout the season as required to meet the objectives defined in the data collection plan. Collections are conducted by certificated and insured operators using state-of-the-art flight and remote sensing systems.
Data Processing and Delivery: Quick-look results are available on-site within minutes for scouting, with fully tabulated and validated analytical products aggregated over the season to support ease of integration with downstream analyses.
The Aerial Phenotyping service leverages SLANTRANGE's proven expertise in characterizing agricultural crop development with advanced sensor technology and data analytics. The service provides two major advantages over current data collection methods for test plots. First, a full suite of phenotype metrics are delivered that can be difficult or impossible to accurately measure with ground-based or other aerial measurement techniques, such as manned aircraft or satellites. Example metrics include plant counts, plant size distributions, vegetation fraction, chlorophyll index, vegetation indices such as NDVI, as well as customized metrics for specific crops or research objectives. Second, the service provides an automated and scalable solution to collect this valuable data. SLANTRANGE handles all of the data collection and processing, with complete coverage of every plot in every field, and can scale the service to meet the needs of any research operation across the globe.
"Our new Aerial Phenotyping service is a natural extension of our current product offering," said Michael Ritter, CEO of SLANTRANGE. "Our research customers rely on the accuracy of our patented sensing and analytics technology but were using manual computation to generate results for individual test plots. Our service now provides a fully integrated and automated solution to deliver the information they need at the time, place, and format they need it. Building on our initial success with Bayer in 2017, we're proud to be supporting the research programs of Monsanto's The Climate Corporation, Land O'Lakes' WinField United, and AgReliant with this new analytics service."
For more information, download the SLANTRANGE Aerial Phenotyping Product Guide or contact sales@slantrange.com.
About SLANTRANGE
SLANTRANGE is an agricultural intelligence company that develops and markets sensors and analytics systems designed specifically for the needs of agricultural users. By quickly providing insights from the field, SLANTRANGE gives growers, agronomists, and researchers more control over agricultural land, helping to reduce operational costs and improve decision making. To learn more, please visit http://www.slantrange.com.
Media Contact:
Matthew Barre
mbarre@slantrange.com