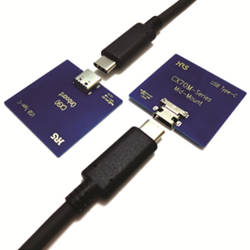 WILMINGTON, Mass. (PRWEB) October 18, 2018
Heilind Electronics, a leading global distributor of electronic components and authorized distributor for Hirose, is now stocking the manufacturer's CX Series USB Type-C connectors. The next-generation CX Series conforms to USB Type-C (3.1 Gen 2) -- the new protocol for data connectivity in the consumer, industrial machinery and automobile markets.
Featuring quick charging and a 10 Gbps high-speed transmission, USB Type-C connectors can transfer data twice as fast as conventional USB 3.0 (5 Gbps) connectors. Furthermore, alternate modes enable the accommodation of video transmission standards such as MHL and DisplayPort.
Another key feature of the new connectors is simplified mating. The reversible form factor eliminates the possibility of backward insertion, while a clear tactile click prevents incomplete mating. The slim overmold design of the plugs further enhances usability.
RoHS-compliant and halogen-free, CX Series connectors are available in both hybrid (mid-mount) and double-row SMT (top-mount) varieties.
Visit Heilind's website for more information about Hirose CX Series USB Type-C connectors.
About Heilind Electronics
Heilind Electronics, Inc. (http://www.heilind.com) is one of the world's leading distributors of connectors, relays, sensors, switches, thermal management and circuit protection products, terminal blocks, wire and cable, wiring accessories and insulation and identification products. Founded in 1974, Heilind has locations throughout the U.S., Canada, Mexico, Brazil, Germany, Singapore, Hong Kong and China. Follow Heilind on Facebook at facebook.com/Heilind and on Twitter at twitter.com/Heilind.